Golden lemon ring cake with topping
If life gives you lemons ... make cakes out of it!
Do you hear it too, the lemon cake calls out to you: "Summer, Italy, here I am!"
Sun, fresh air, a crappy corona pandemic and ... lemon cake.
I urgently needed a bit of luck and an intact world. The corona virus has accomplished something that no one has been able to accomplish in the past 8 years. Even if one or the other had tried it, on the one way or the other. I've been separated from Mr.Bag for over 3 months now - he's in Tirol and I'm stuck with my family here in Slovakia. Living with my family, as already mentioned in an Insta post, is not exactly easy. However, I do not want to go into more detail about this because, as already written, "If life gives you lemons ... just make the best of it."
In my case, I make myself a fresh, lovingly baked lemon cake, more precisely a lemon ring cake. I will then serve it in my very special way. In order not to fall into a depressive mood, I decided to conjure up a piece of a beautiful, intact world.
A lovingly staged, lemony ring cake, that was the idea of ​​my sweet piece of perfect world. A seducer from everyday gray life that inspires new ideas and thoughts.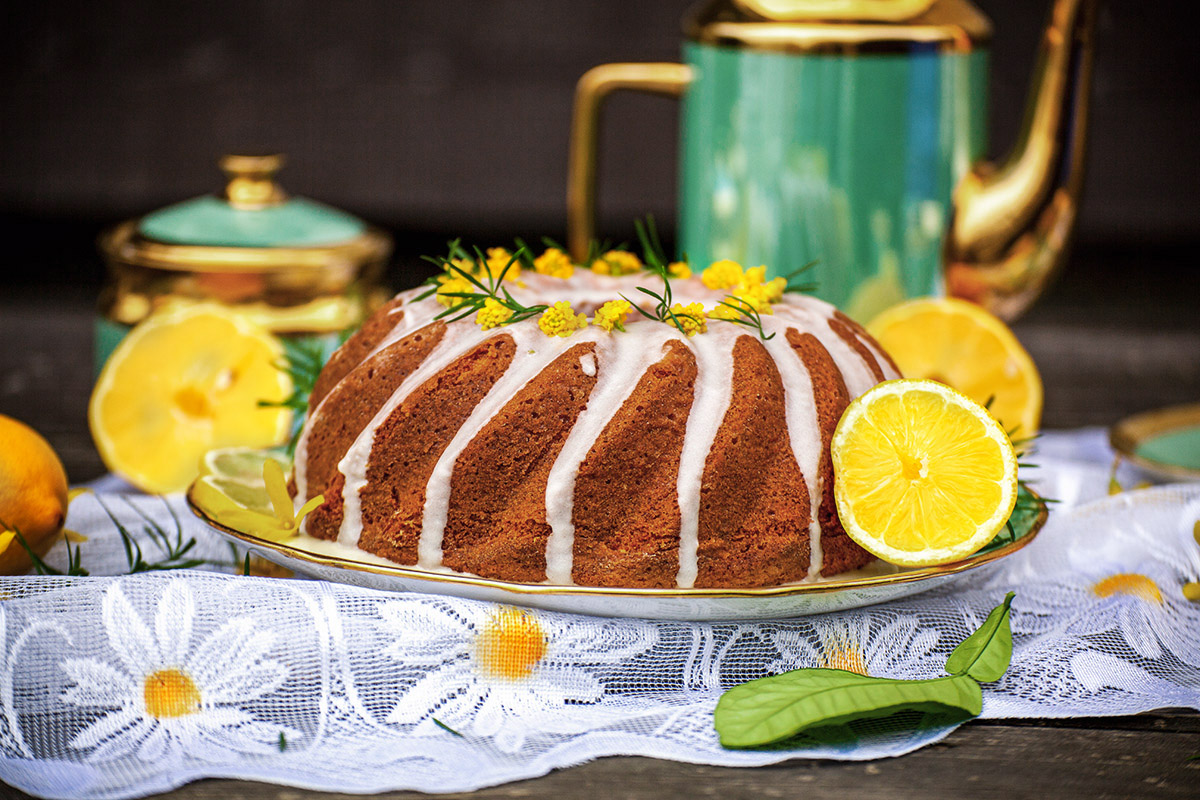 The film called "Life"
We are all actors and directors in our own film. This film is called "life"! It is entirely in our hands which type of film we make. My mind, my imagination and my creativity are still free.
They give me the opportunity to create a reality that I like, that corresponds to my personal ideas. And so I put on a nice dress, put on an apron, switched on an Italian sound, swung my hip and off we went. The filming for my own film could begin.
The rising sun
A beautiful Sunday afternoon in spring, in our Slovakian, but for me Tuscan garden, a good coffee and a piece of cake - that's the way to live, isn't it? A piece of this delicious lemon ring cake and the sun is rising. The lemon and this special glaze turn a simple classic into a refined, citrusy delicacy. Try it yourself. For me personally, this lemon ring cake was a little happy-maker ...!
Actually, I have to be very grateful for the large garden and the possibility to bake. Other people are currently locked in their homes and many don't really have the opportunity to enjoy fresh air in the safety of their own garden. Others may not be able to bake or may not be able to do so.
Happiness tastes like this
Really good, homemade lemon cake, which tastes of pure happiness, conjures up memories of my and Mr. Bag's time in Italy. Anyone who has ever wandered through lemon groves will probably be drawn to it again and again, like me - to the evergreen trees with their glossy, lush green foliage, the porcelain-white, magically fragrant flowers and the yellow lemons.
The lemon is the original mother of all citrus fruits. Like hardly any other fruit, it is the symbol of pure, harmony, immortality - and also the aromatic icing on the cake. A splash is often enough to give some dishes the right flavor. A dash of lemon brings a boring sauce to life, its acidity refines every dish and today it refines my golden ring cake. It gives him something special. What would a sweet ring cake in Tuscany be without a special freshness kick ?! Gugelhupf is a cake classic here in Slovakia, but a lemon variation is something special. And I love the special.
Let us capture the magic and the breath of the south together, think of light, warmth and healing relaxation. No one can say no to a piece of juicy lemon cake anyway. So: off to the sun and enjoy it!

A little tip on the side: the beguiling scent pulls even the most tired morning muffle out of its feathers. This invigorating effect is a good reason to serve this lemon ring cake much more often and to dream away to Italy much more often.
Be a director of your own film too.
So now back to our lemon delight and how I baked it.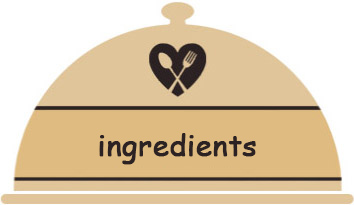 | | |
| --- | --- |
| | |
| | For the dough: |
| 225 gr | soft butter |
| 300 gr | sugar |
| 2 TL | Dr.Oetker Madagaskar vanilla paste |
| 2 C | BIO lemons, abraison of them |
| 3 pieces | eggyolk |
| 3 pieces | protein |
| 240 ml | milk |
| 30 ml | lemon juice |
| 1 pinch | salt |
| 250 gr | smooth flour or cake flour |
| 2 TL | baking powder |
| 40 gr | corn starch |
| 1 pckg. | vanilla pudding |
| | |
| | For the topping: |
| 65 gr | Kakaove butter fino de aroma (von Lyra Chocolate) OR: |
| | good aromatic, white chocolate OR: |
| | chocolate-butter |
| ca. 30 ml | Lemon juice |
| 5 EL | baking powder |
| | |
| | Also you need: |
| | ring form |
| | hand mixer |
| | pastry brush oder baking spray |
| | mixing bowl |
| | |
I did it that way:


For the juicy lemon ring cake, first preheat the oven to 160 degrees top / bottom heat
(do not forget it differs from oven to oven)
and spread a Gugelhupf form with butter and dust with flour.


Mix the butter, half of the sugar, vanilla paste, salt, the lemon zest and the egg yolks with the mixer in a bowl until very foamy.


Add milk and lemon juice and mix briefly again.



Beat solid snow from the egg white and the remaining sugar.


Carefully fold the snow into the egg yolk foam.
Mix the flour, baking powder, pudding and corn starch and carefully fold in by hand.

Put the dough in the Gugelhupf pan and bake for about 60 minutes.
If you occasionally feel that the dough becomes too dark at the top, simply cover it with aluminum foil.
After the baking time, don't forget to test the chopsticks.
We let the Gugelhupf cool in the mold for about 10 minutes and only then fall.

I slowly melted the white Lyra chocolate in the lemon juice.
(The chocolate from Lyra has a special taste, but you can also use another one)
If the glaze feels too liquid, simply stir in the icing sugar and let it cool down a bit.
Now spread the glaze over the Gugelhupf and let it set.

If you try one of my recipes, I'm really happy about your feedback - as a comment under the recipe, by email (This email address is being protected from spambots. You need JavaScript enabled to view it.) or show me your photos on Instagram!
Please use the #lucinacucina or #lucinaslife and link to the photo (@lucinaslife) so that I don't miss it. If you share the picture in a story, I will be happy to share this experience with my community!
Have fun copying.
La vie est belle
Your Lucina Cucina
---
Reader info & transparency: My post contains affiliate links. When buying through an affiliate link, I receive a commission. The purchase price itself does not change for you. Orders you place about it support me with a reimbursement of advertising costs in my work for this blog. Thank you for your kind support and appreciation!
Lyra products mentioned are no cooperation, that's only my recommendation - this pour was only made from my experimentation and because I find it very tasty, I will now do it more often. What Lyra is, you can read here.