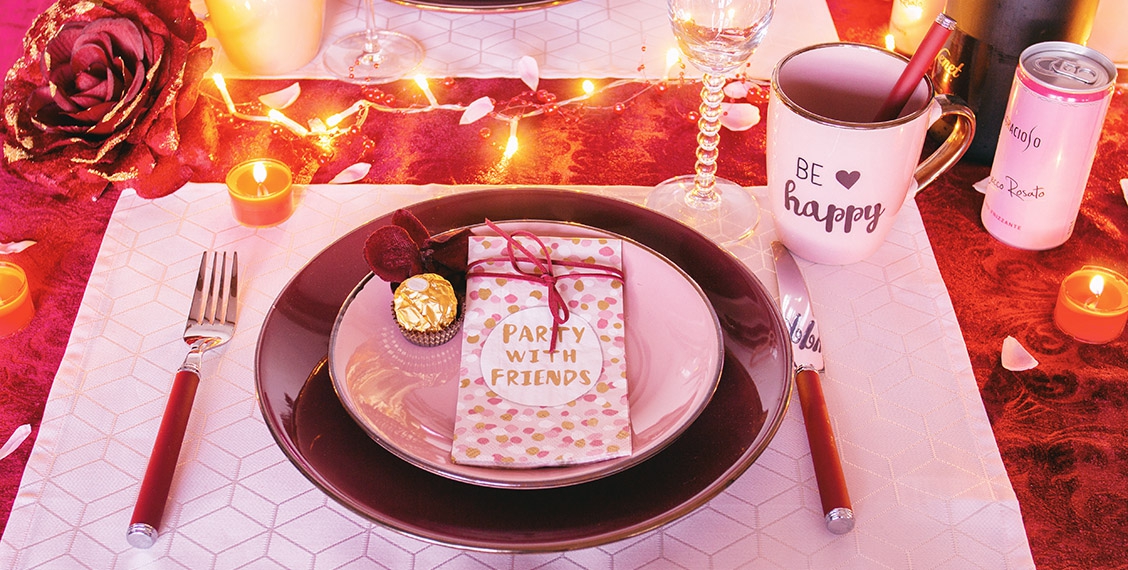 The girls evening floriental
Did you know that on 9.9. the Friendship Day was?
I learned it from a promotional card from the company Depot.
Due to brand name and links, the contribution is declared as advertising.

It was a raffle ticket, which is why I looked at it the same time on the Internet. 3 more days left me to join in. So I spontaneously decided to call a girls' evening into being.
Typical girlies - typical pink - foriental evening
Hand on the heart: girls evenings we do all too rarely - constantly something comes in between. Let's be honest, we do not spend enough time for the beautiful hours in life. With constant stress and the attempt to meet all To Dos, we often forget completely, the real meaning of the existence: to have fun! I was just after such a really good evening, with childish joy, sincere conversation and a lot of laughter. We should all be good to us, I think that's the most important thing. We should always take time for the things that give us pleasure and are not content with half measures. Let the stress have no chance to subdue us, that should be the credo.
Especially these days of gentle change of season are ideal for a little thought, to spend more time for yourself and others. If it is less attractive to be "out there", there are many things that can sweeten your day-to-day life - for spend the day or evening in the company of friends, laugh together, try out new things and just have fun.
But that was not the only reason ... I just love sharing theme and theme parties. Above all, I love challenges. My head was immediately full of ideas for a memorable, nice evening.

In order to follow my creative ideas with deeds, the next day I showered with full vigor again in the
depot
and got me this beautiful stoneware dishes in
old pink
and
dark berry
as a highlight of the girl's dinner table decoration. The
stoneware cups
I have still aufpimmt with
thermosticks
with the words "Be happy" and "favorite man". By the way: to make it clear in advance, none of these things was sponsored. Everything paid by me personally and used by my free will for our girls evening.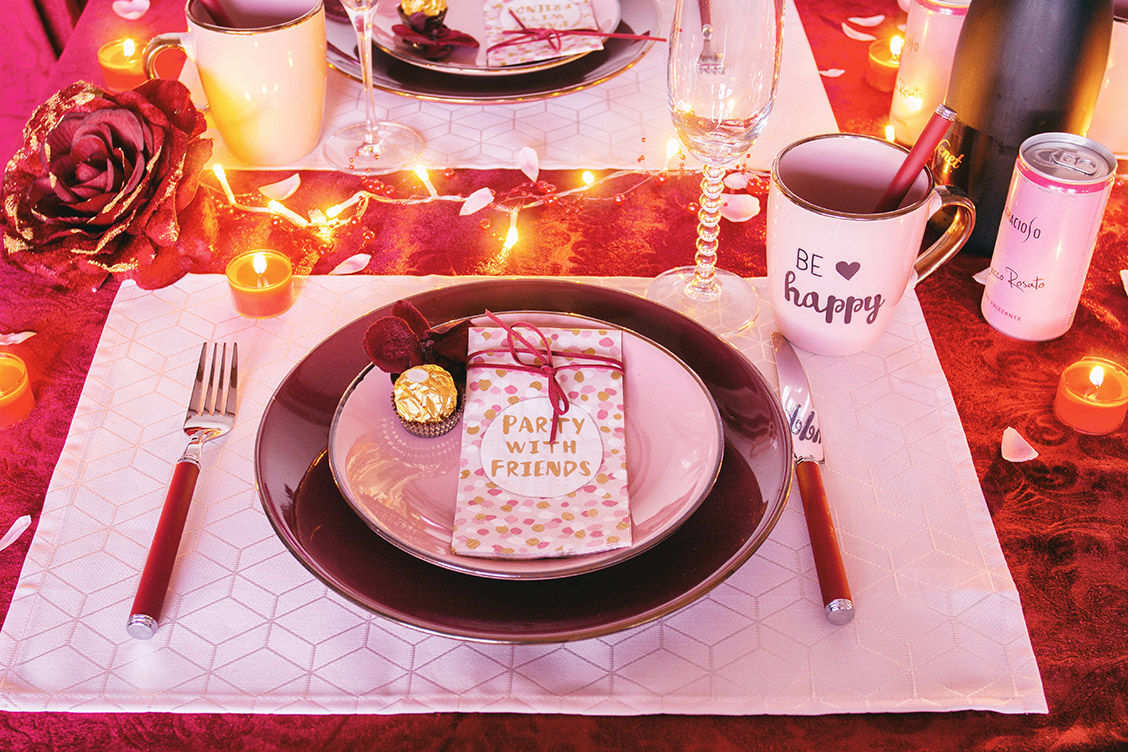 Also
wall deco balloons
, pink
foil heart balloons
, a
garland "Girls"
, the matching napkins, a
gift ribbon
including some
orchid flowers
, bottle pendant with the words "Be as Bubbly as your Drink" came out of pure desire in my shopping basket and full of joy I walked to the cash register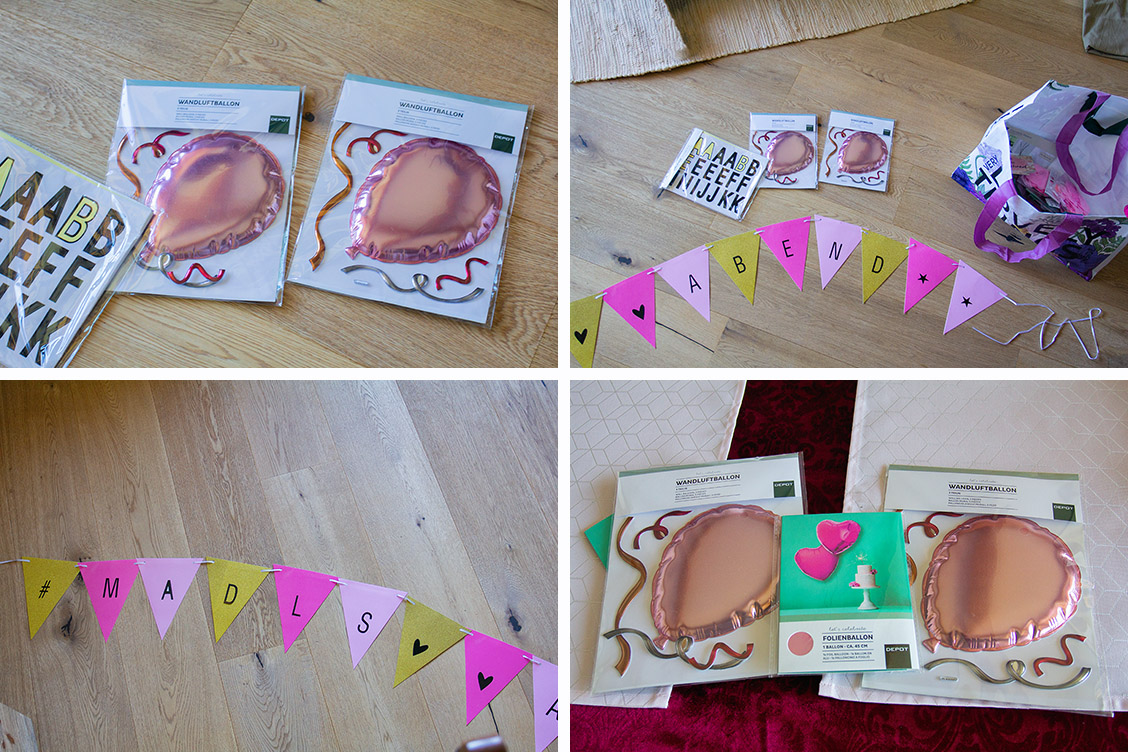 The idea of ​​what everything should look like became ever clearer in my mind's eye. Floriental - that was the right motto. Simply bloom in the fall. I applied this with colors, patterns, materials and food that should make the heart, soul and eye blossom.
You already notice it well, the late summer has already arrived - the days are shorter and the temperatures have already fallen, the heart longs for warmth, comfort and also for certain scents. Scents! right - they control our emotions more than we realize. How should it smell at my girls evening? I conjured the comfort through
fairy lights
and
scented tealights
. A narcotic, sensual scent, I think, underlines the pleasant, relaxed aura. Fragrances affect our mood and well-being in very different ways, and they awaken feelings that the mind can not control. Fragrances have a direct influence on our mood in the truest sense of the word. It has been scientifically proven that they can produce positive as well as negative feelings - and thus contribute to whether we feel well or not. For business, I've spent some time studying the psychology of fragrances and colors - knowing about such things is priceless. As you can see, I like to use this knowledge today in other areas of my life. Finally, my guests should feel very well. That's always important to me. For example, I know that
vanilla
grounds and gives a sense of familiarity and home. When browsing the dm candles I decided therefore for rhubarb vanilla tealights by Profissimo. At the top, they also matched my table in perfect color.
Placemats
enhance every
dining table
. A few days ago at the
Hofer
I saw pink pastel clay placemats around the corner. Extra because of this, I went again from the mountain to the valley to get hold of the Hofer. Well, it was not really around the corner, but the visit paid off. In fact, I got my placemats and a matching
pink rose fairy lights
completed my purchase. The placemats gave the laid table a noble touch. These beautiful, large
brooches
with a touch of gold were the perfect complement - a little opulence never hurts. I had discovered the roses a few days before in the
Aus und Raus
.
Since I am more or less one of the craziest chickens, so I'm a dancer who likes to dance out of line and never gets ready with half measures, I was also looking for a fitting outfit for all of us. 4. As luck would have it, When I walked by on a stand in front of the KIK I discovered exactly what I needed. This shrill top, which was actually a kind of wrap body, should bring us girls to bloom. Living out the contrasts, simply unifying contradictions, seeing ourselves with different eyes - that was and is enormously important to me.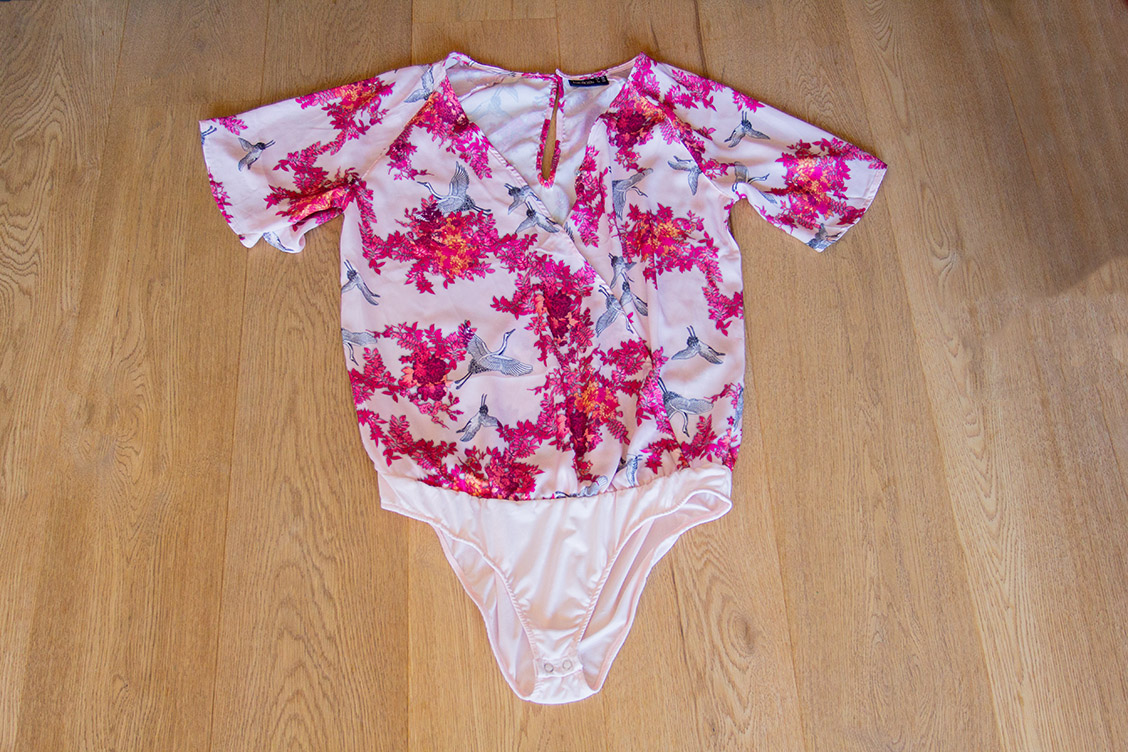 The pressure to adapt in life is often enormous. We all live on a daily basis in many different worlds and roles, and everywhere we are expected to fit in seamlessly, become part of the wheel that turns incessantly. We should not be dressed too shrilly in the office, please. At offices and authorities, we should be inconspicuous and understanding and blah, blah, blah. You know all these unwritten laws and regulations. But this time, revolution was announced this evening. On this special evening we made a fashionable role change. I described it as: Asia meets Tirol - creation of clever illusions. These colors of ice cream and powder pink - thanks to these pastel tones on the body, the summer feeling was spontaneously extended by a little while. A real softie. This garment looked gray against the murky as a
Macaron
against bad mood. A touch of sensuality, a touch of romance, comfortable and colorful - that's the way we should all dress. We usually behave like a computer in everyday life, but by pressing the Delete button and by rebooting we could all reinvent ourselves - at least on such a day. Just reinvent yourself, slip into a completely different role - that's the quickest way with fashion. So try something new and try it out. It's exciting to see yourself in a completely different light - endorphin release is guaranteed.
What should not be missing in a perfect evening with the girlfriends? Food and drink, of course! I thought of a few simple recipes, but which nevertheless made something. You must never forget - the eye always eats with you. On such days, I never cook anything complicated and nothing too elaborate. After all, the whole thing should not end in stress. You know girls, stress is not so good for our beauty. For this evening, I chose the decoration for a change before eating, so this time I adapted the food of the decoration.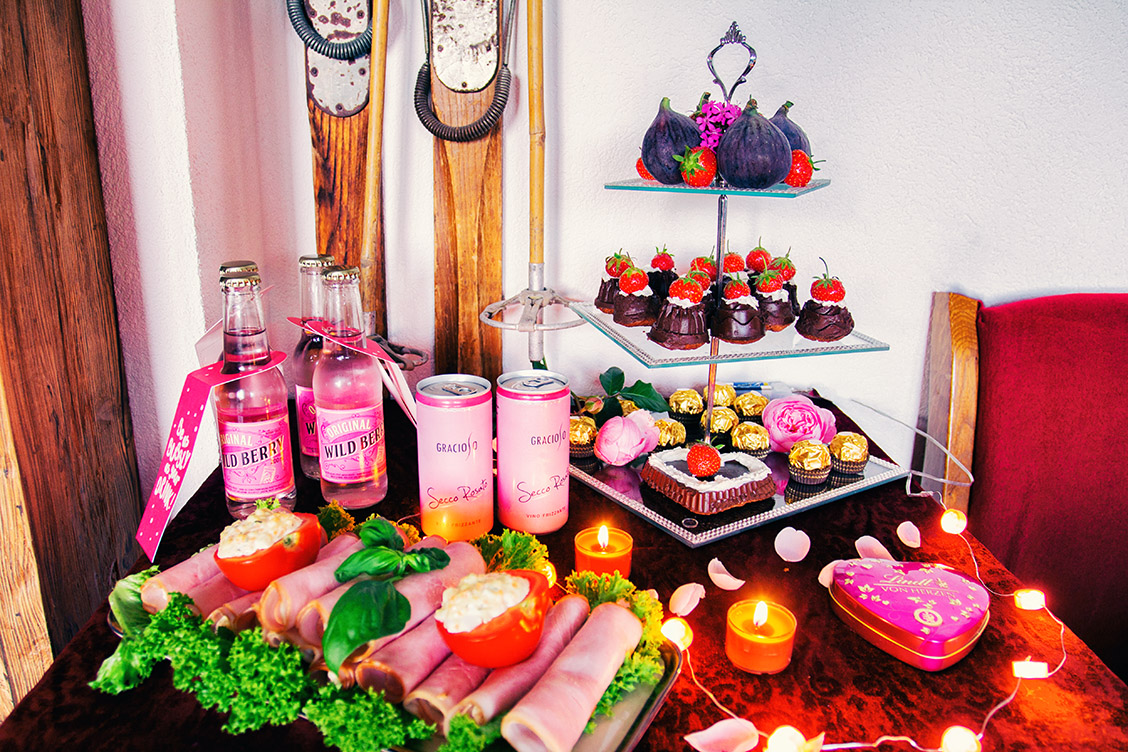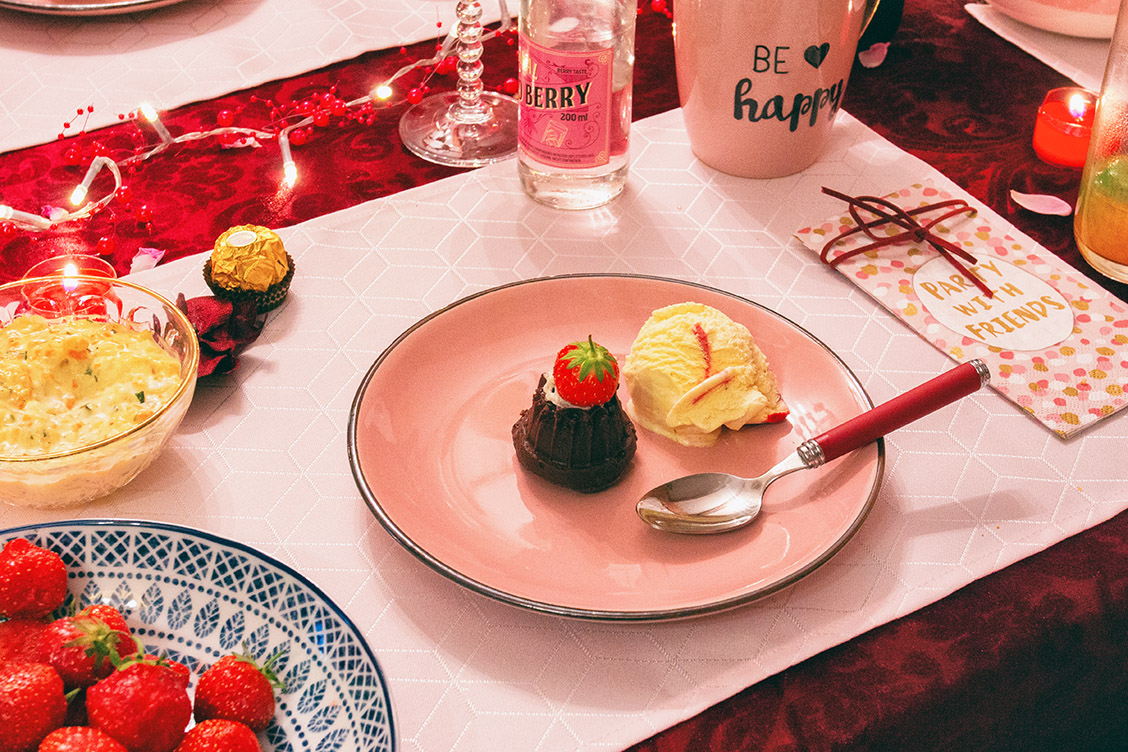 I chose stuffed ham rolls - they are a delicious and easy recipe for every party and can be varied again and again. Mr. C. brought me this idea. Pizzarosen not only looked pretty, they fit perfectly with the motto, they also tasted delicious and were finished in no time. Whether it's a girls' evening, a birthday or a cozy evening for two: pizza casks are suitable for any occasion and make all guests happy. My mini-Gugelhupfe I created with great attention to detail and craftsmanship. They were small, but refined. My etagere was the perfect presentation platform. The combination was really good. In addition, strawberries and figs still adorned this cake stand. The sweet specialties of Lindt and Ferrero Rocher then crowned this glorious candy pyramid. The composition of crunchy aromatic nuts, surrounded by delicious nougat cream, covered in delicate milk chocolate - oh the delicious, small Rocher chocolate praline makes the beautiful moments in life still more beautiful. Since the girlfriends moments are only perfect when it tingles, I organized a mysterious and magical sparkling wine with a fruity note. The Freixenet Cava Cordon Negro he is a light, friendly and refined cava, which is full of Spanish passion and zest for life. Its bouquet is full of elegance, a pearl game with accentuated fine aromas of fresh apple and ripe pear.
By the way:
Freixenet Cordon Negro Brut Sparkling wine is produced in an extremely elaborate process in which the daily shaking for weeks and careful disgorging proves to be fundamental to the creation of this unique taste experience.
"The cornerstone of the sensual sparkling wine brand was laid in 1889 with love between Pedro and Dolores, both from Spanish winegrowing families. Together, they set themselves the goal of creating excellent sparkling wines. With success: Thanks to diligence, passion and continuous pioneering spirit, they have established Freixenet as the world's most famous sparkling wine brand. Even today, more than 150 years later, the company is family-owned. "(I copied this text from Interspar).
I too belong to the type of man who calls himself a victim of packaging - when I discovered these pink Gracioso Secco Rosato cans in the Interspar, I simply could not control myself anymore. There was no trappings, I just had to take them with me.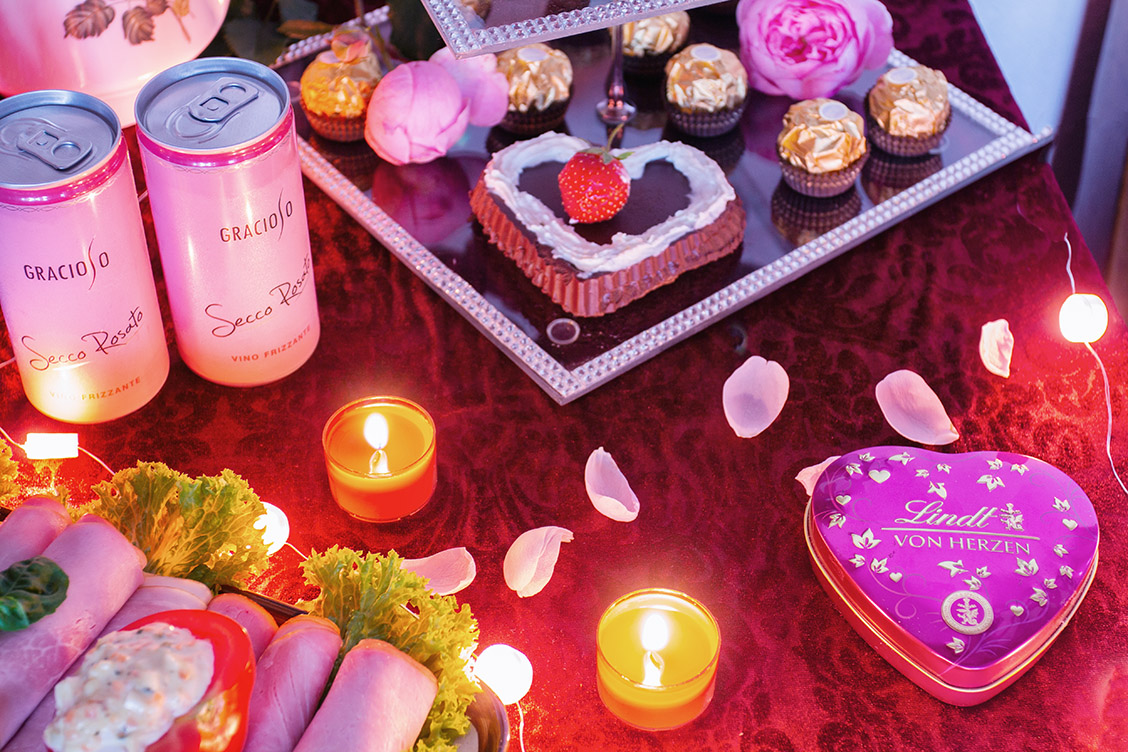 Fine sparkling Frizzante with an Italian flair but fits any party and this pink color - I could not say no. Mediterranean tonic water in a nice, naturally pink bottle, with wild berry flavor was there in the Hofer and what do you think, who did not miss it? Exactly, me. In order to be able to try out these color-changing thermosticks, I also brewed a teapot full of rose tea.
Bordeaux-red blankets came over our rustic corner bench and for the table and the side table my Fuchsia Jacquard curtains were converted into tablecloths. Thus, everything was really color coordinated. When it comes to a successful celebration, this is worth every effort.
We laughed a lot together and spent a very nice evening together. I hope I was able to inspire you a bit and at the same time I wonder how well you are celebrating your girls evenings. I am happy about your tips and suggestions.
The most valuable and most appropriate tip is to conclude: Girls evening ideas do not always have to be great - they just have to come from the heart. A high on all girls
---
Reader info & transparency: My post contains affiliate links. If you buy via an affiliate link, I receive a commission. The purchase price itself does not change for you. Orders that you place through it support me with a reimbursement of advertising costs in my work for this blog. Thank you for your kind support and appreciation!