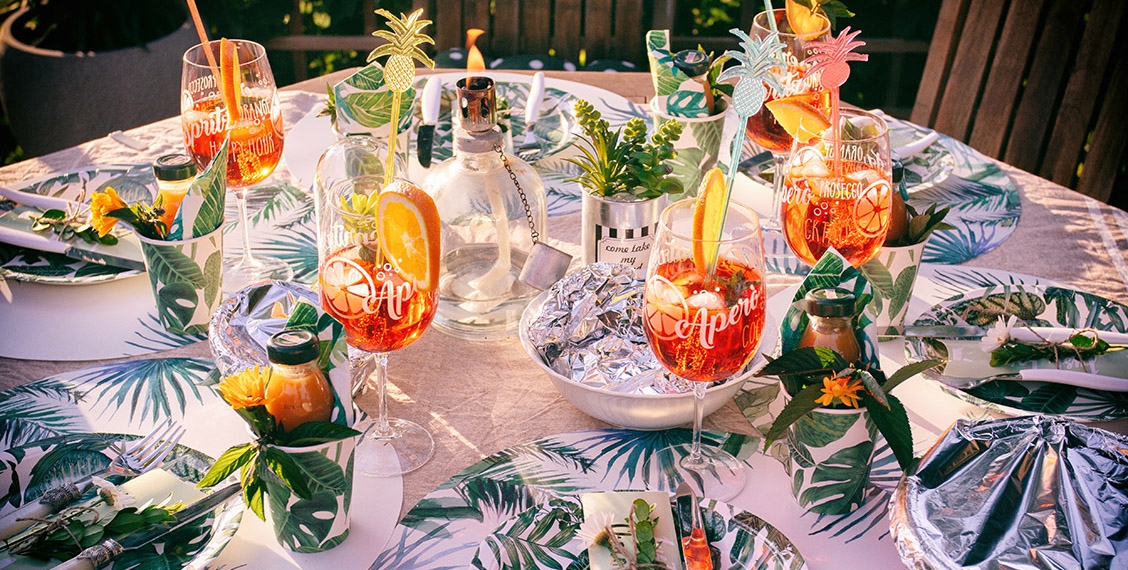 Once a holiday feeling, please!
Due to brand name and links, the contribution is declared as advertising.

I just love to receive guests and always prepare a new splendid table - that's my hobby and my great passion. I quickly had to put together the right elements to create the perfect atmosphere for a memorable and comfortable get-together. In this beautiful weather and the pleasant warm evenings, we spontaneously invited our neighbors to our terrace, to eat or have a barbecue. I would like to use this time together as we will be moving away soon.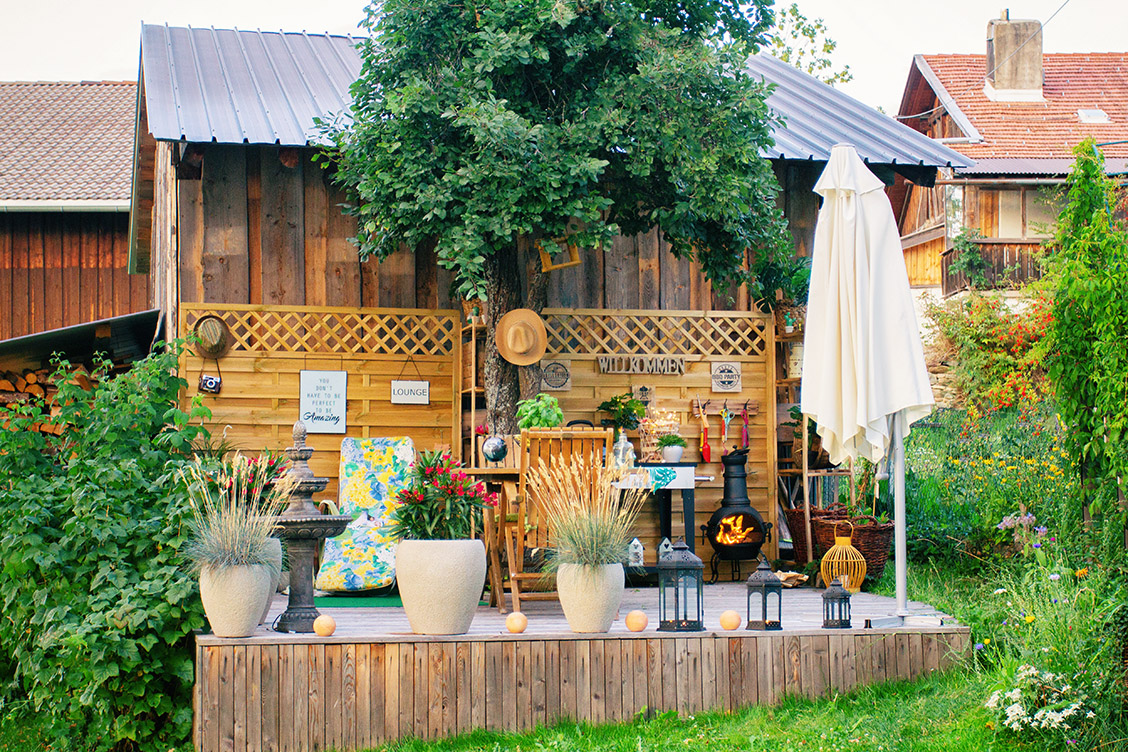 Since it had to be quick, I improvised a bit. For some time I had an idea with a stylish "Tropical - Style", only the drafting was missing, because it was meant for my other guests (Food Blogger Patricia and Rebecca with their men). But good. I love to take on new challenges every time and decorate our table in a new look. I know, I know, the tropical style is certainly one of the more daring. Nevertheless, it exudes holiday feeling, a touch of exoticism and joy of life. A bit cheesy, yes - but somehow super cool too.
Now in summer, a sunny day is enough to invite me to a happy round. I am aware, I am a bit late with my contribution. But hey, the Indian summer spoils us again with sunny days, balmy evenings and above all golden light. A blackboard decorated according to tropical or jungle style certainly looks very nice. The most beautiful celebrations not only boast a delicious menu, but I just do everything to make my guests feel good and this of course includes an original table decoration. I decided to kidnap my neighbors into a little piece of paradise, into a tropical night, to conjure up a Bacardi feeling that makes one think of a Caribbean vacation and that in the middle of Europe, in our everyday world. So I started the music of Kate Yanai and her summer-dreaming song and just started. Music is a great source of inspiration for me and stimulates my creativity and imagination - give it a try.
Wellcome to the "Urban Jungle"!
I transport myself in my thoughts into the mysterious world of the tropics. Just introduced me to Costa Rica. I could smell the scent of these exotic plants, or was it just the margarites in my garden? I saw the lush green monstera leaves gently swaying back and forth on the patio, the distant sound of a tropical waterfall, and even heard the animal jungle dwellers. Exotic pure, untamed and mysterious. Yes, I always do it when it comes to empathize with certain scenes. Incidentally, the tropical waterfall was our terrace fountain, which should enchant the guests with its lapping.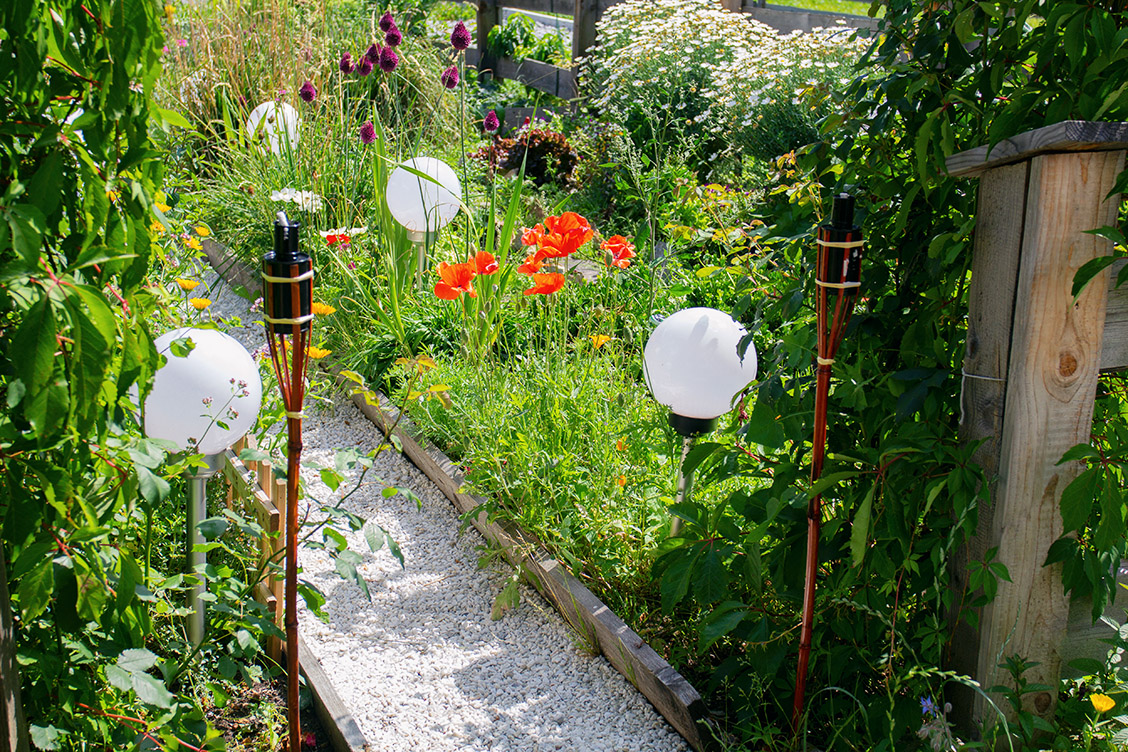 And so I created my wild tropical district
With the typical colors of the jungle, natural materials and decorative highlights, which are modeled on this fauna and flora, I managed the exotic trip on the table.
First I looked around the terrace. I was lucky: the wooden furniture had already weathered slightly. Jungle wood like pure. I distributed khaki green seat cushions on the chairs - so the guests could sit comfortably. The wildly raspberry shrubs, my almost completely covered with wild wine garden arch and the well-distributed exotic plants such as Monstera, tropical grass, Phoenix palm and succulents conveyed perfectly the jungle feeling. For the table, I used a light earthy brown, in the form of a recently purchased at KIKA beach linen cloth - that was already thought when buying a tablecloth. There was no time to iron this linen wash, so it came with its natural folds on the table. But made nothing, because I distributed these tropical round placemats, which I had bought 2 days earlier at the Hofer.
The Monstera cardboard crockery I had discovered some time ago in the depot. So that these paper plates did not get wings through the wind, I used these chocolates packed in the appropriate design with the inscription "just for chokoholics" from the depot as a plate weighter and as a nice guest gift. As an extra decoration, I tied a jute ribbon around the chocolates and decorated them with a daisy flower and a book branch from the garden.
As a compensatory color element in the colorful jungle world, white was particularly suitable, because it underlined the freshness and naturalness of this style and made sure that no colorful chaos arose or the jungle look was oppressive. Since my remaining white cutlery was in the dishwasher, I also took the Italian Murano cutlery in ivory look and place it on the plates. Everything very easy. Now paper cups, which I also had to complain, came to the table.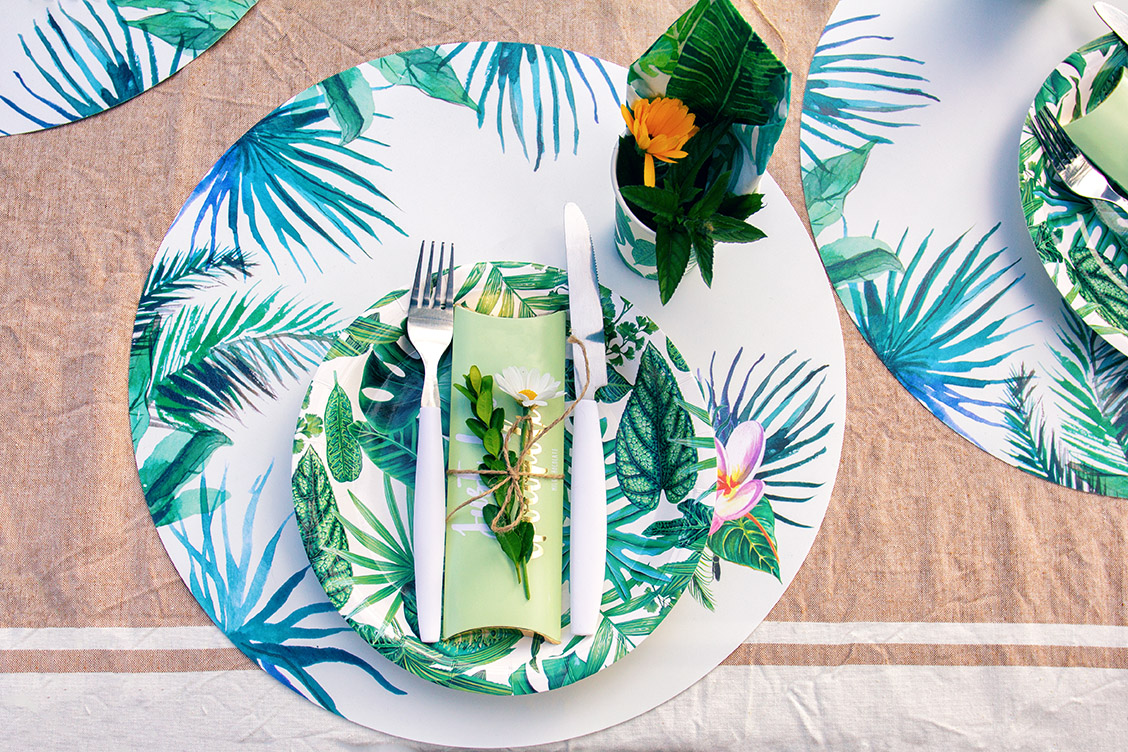 To do this, I folded the beautiful Tropical-Served as a triangle, put them in the cups and complained to them with these little well-cooled pesca juices from the Eurospin, which I had taken on the last burner visit. Even my mint and the marigolds from the garden had their place of use - in this case, they played the lead role as exotic plants-well, a little imagination needed it anyway.
The color highlights, bright orange and red, came as drinks and food on the table. Unfortunately, except for the pineapple, I did not have any exotic fruit, so I took what the fridge offered: melon and physalis.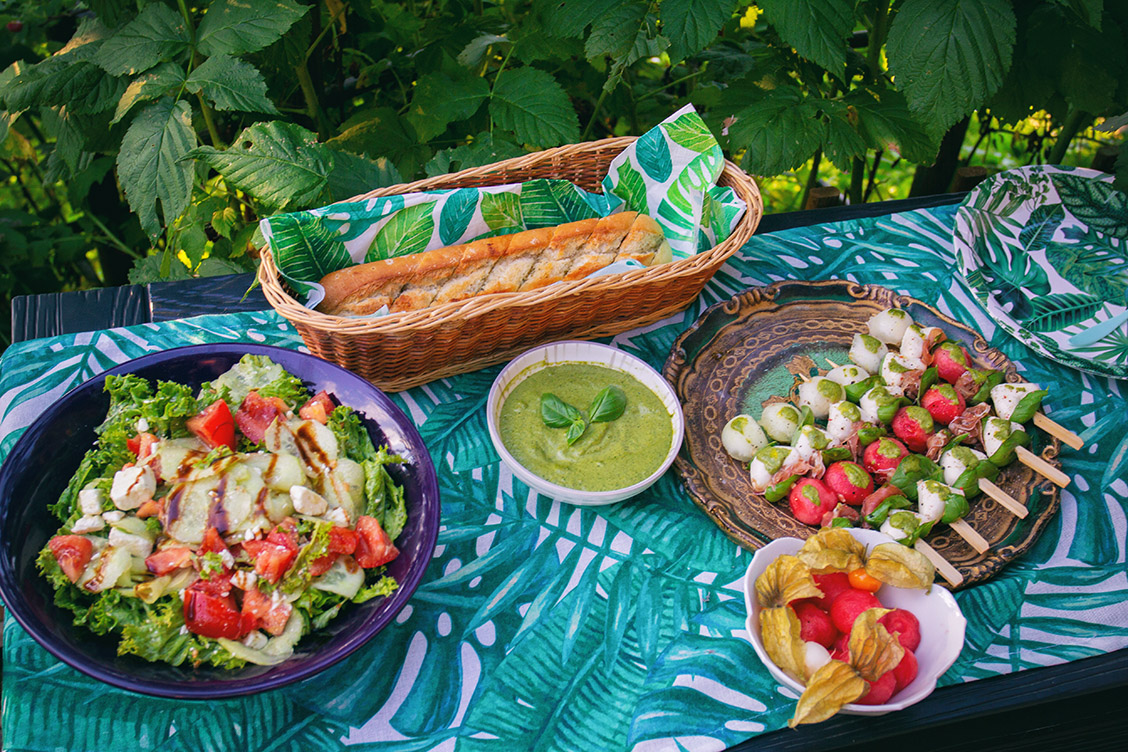 Often it is sufficient to combine the colors well. So I decided to try these watermelon caprese skewers with basil vinaigrette. We made a delicious salad from the different varieties in the garden, red tomatoes and peppers, refreshing cucumbers, crumbling feta cheese and a delicious fresh dressing rounded off the vitamin salad.
This bright orange came to the table as an aperol spritz, decorated with a fresh slice of orange. An oil lamp in the middle of the table, on the left and right of it a small decoration could not be missing of course. Once succulents under a glass bell and once mixed succulents in a canned pot, these were the companions of the table lamp (you can just as well use a table fireplace)
A golden dragonfly as a highlight and around the terrace, I still placed candles with tropical fragrance. As tealight glasses, I simply used empty bottles, which I had enough by my cokking in at home. The terrace decoration was ready, so I hoped that the Aperol Spritz tasted just as good as a Caribbean cocktail.
A little tropical flair on my clothes also got me going in the kitchen. So the cutting, sizzling and grilling but once again so much fun. I put on my airy jungle dress, tied the tropics printing apron on, so that I would not be short of work. I grabbed the wooden cutting board in pineapple optics and it could start, with the preparation of the "tropical" melons skewers. Christian meanwhile made the grill and sizzled there already the meat, apricot sausages, pineapple and corn.
My guests arrived as well. How nice, they also brought a few things - hot potatoes and this delicious "tropical", at least from the yellow color, homemade peach sauce. Well, again I did not have time to prepare myself, but no matter the main thing we had it nice. The scent of the freshly grilled already moved through the air and mingled with the scent of tropical candles to a wonderful smell. Normally you felt in a short break or a break. As you can see, it's often not about having everything perfect, it's about socializing, having fun together and just acting spontaneously and creatively. A few simple steps are enough to give your garden or balcony a whole new mood.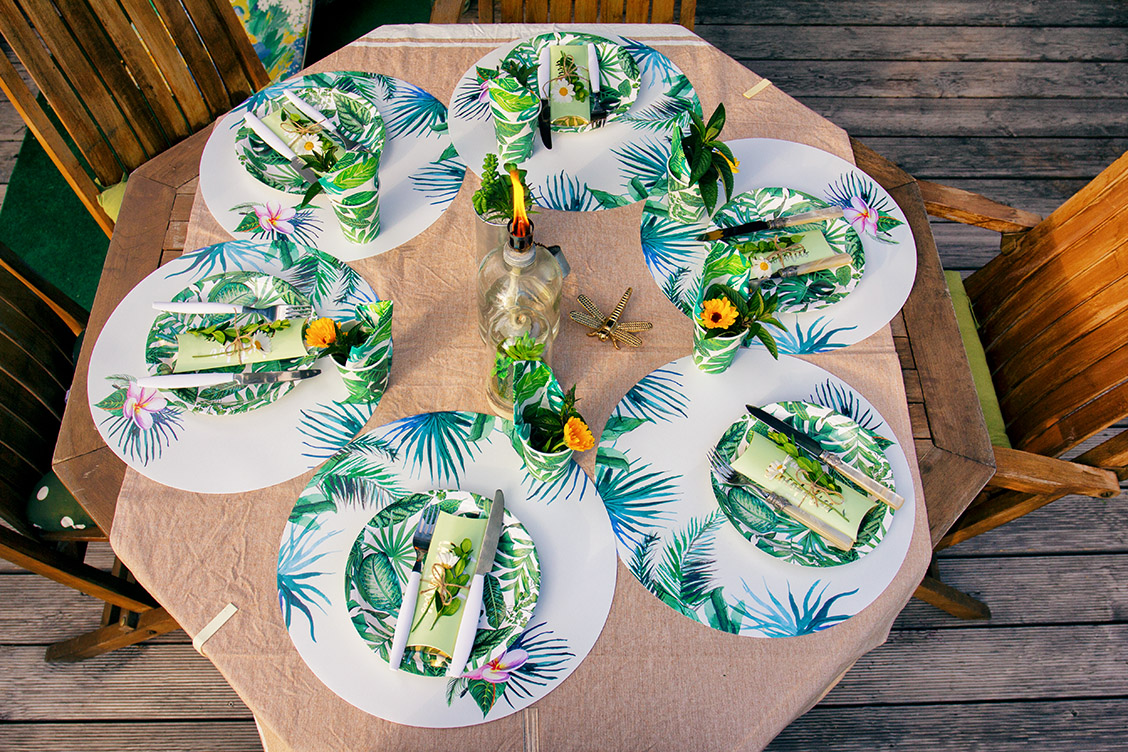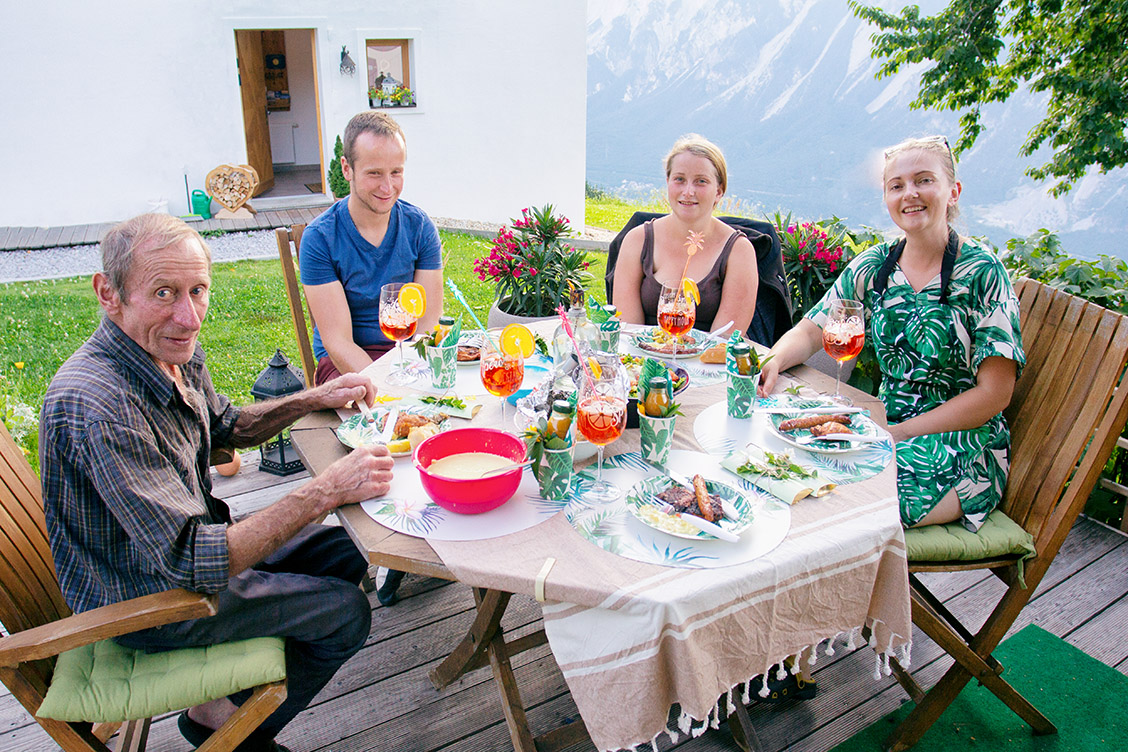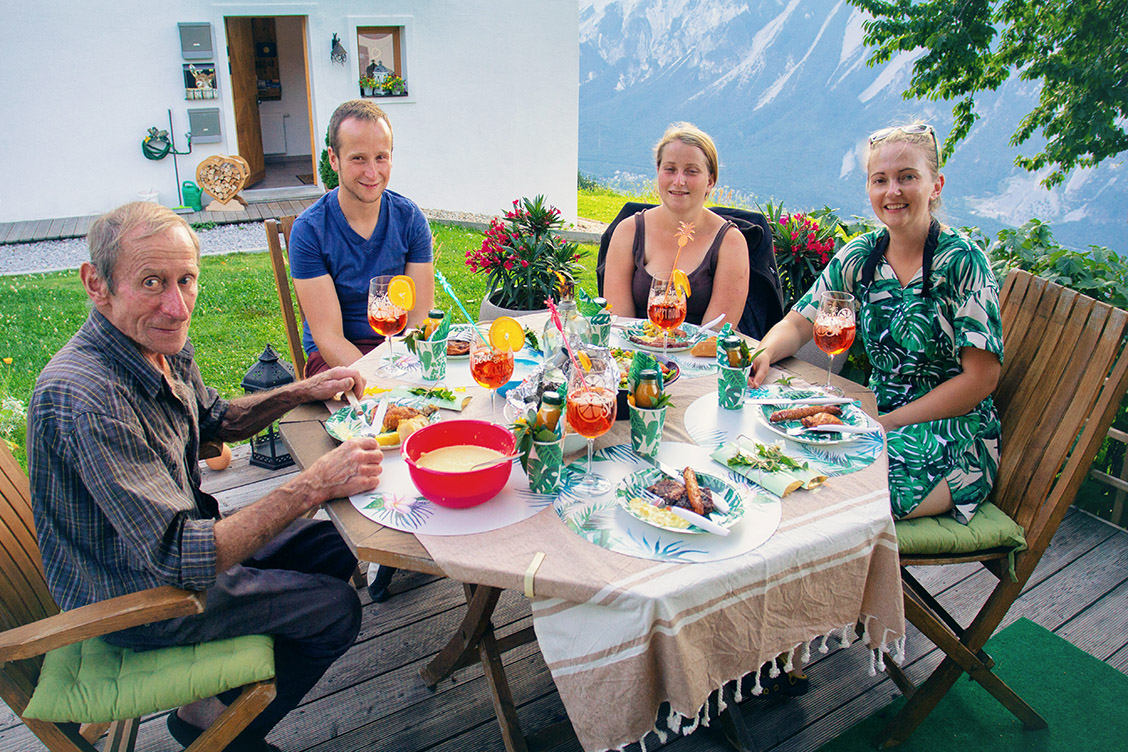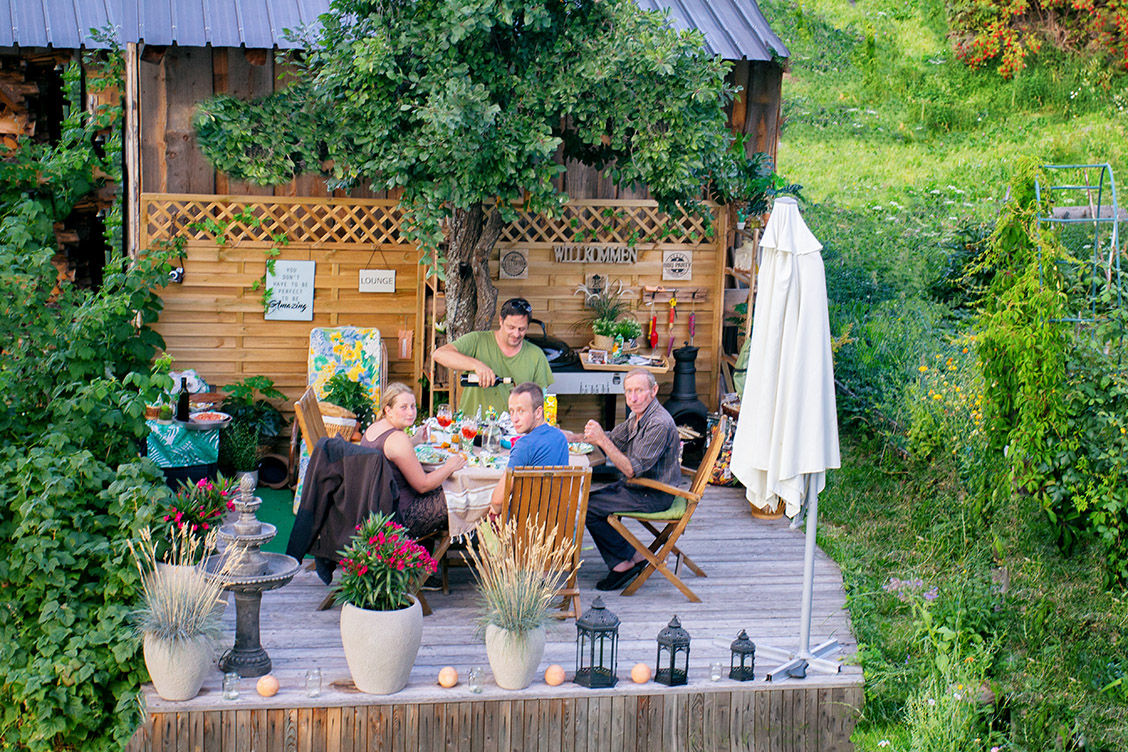 I think we will remember this evening for a very long time, even though we will live far, far away from this place. So much we laughed together, ate well and tried something new again. And that's exactly what it's made of. Although we had made that evening with Nicole for a sun-rising tour on the Kögele, we are (Christian and I), after we had already cleared everything, remained sitting on the terrace for a long time to this fine, balmy night and to enjoy the wonderful starry sky.
Later we fired the terrace oven, I sat comfortably in my rocking chair and together we dreamed our drink just quite, very far away. We talked about the next joint projects, we went a long way and thoughtfully traveled to other countries.