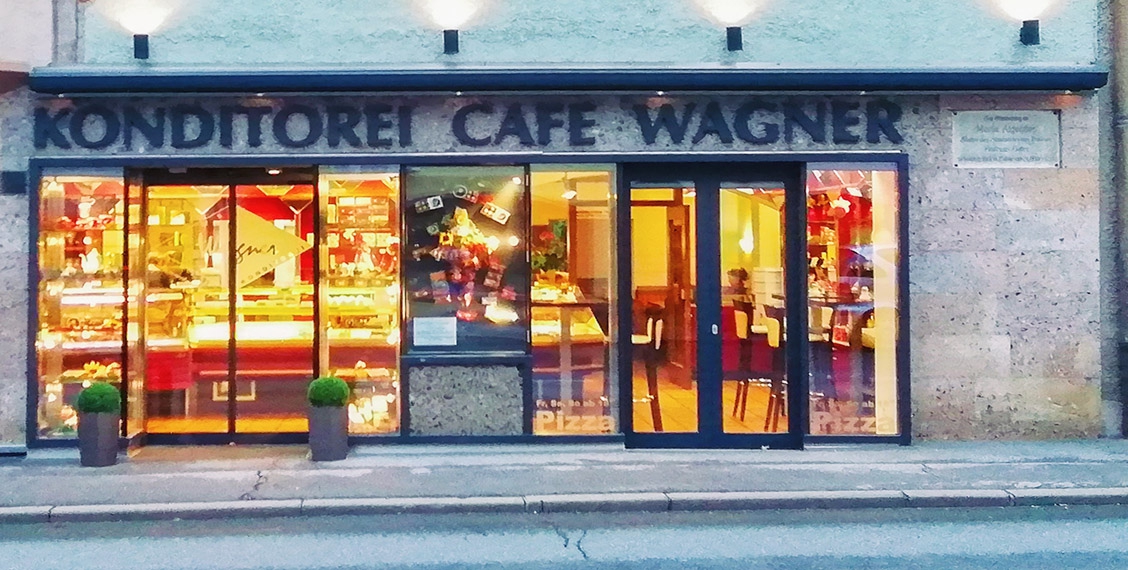 Cake shop cafe Wagner Matrei am Brenner
On a drive through Matrei am Brenner Mr.Bag and I have an incredible desire for a break with a fragrant cafe and delicious cake attack.

We park the car and look for a cozy cafe on the streets of Matrei. Right away the Cafe Konditorei Wagner appealed to us. It looked from the outside like a traditional coffee house to feel good. From the optics, it invites us to a relaxing, comfortable time with a cappuccino.
Unprofessionel staff
But it sometimes comes differently than one would expect. Mr.Bag and I are really happy and greetings. The service staff behind the desk looks at us with a suspiciously evil look, puts their knitting on the side and greets back very reluctantly. Pfuh - that's a welcome. Too bad that we were received so unfriendly. This destroys the good first impression almost completely. But well, let's teach you a lesson. Maybe it will be something. Maybe the lady just had a bad day - should not happen to staff that has to deal with guests, but Mr. Bag and I are very forgiving.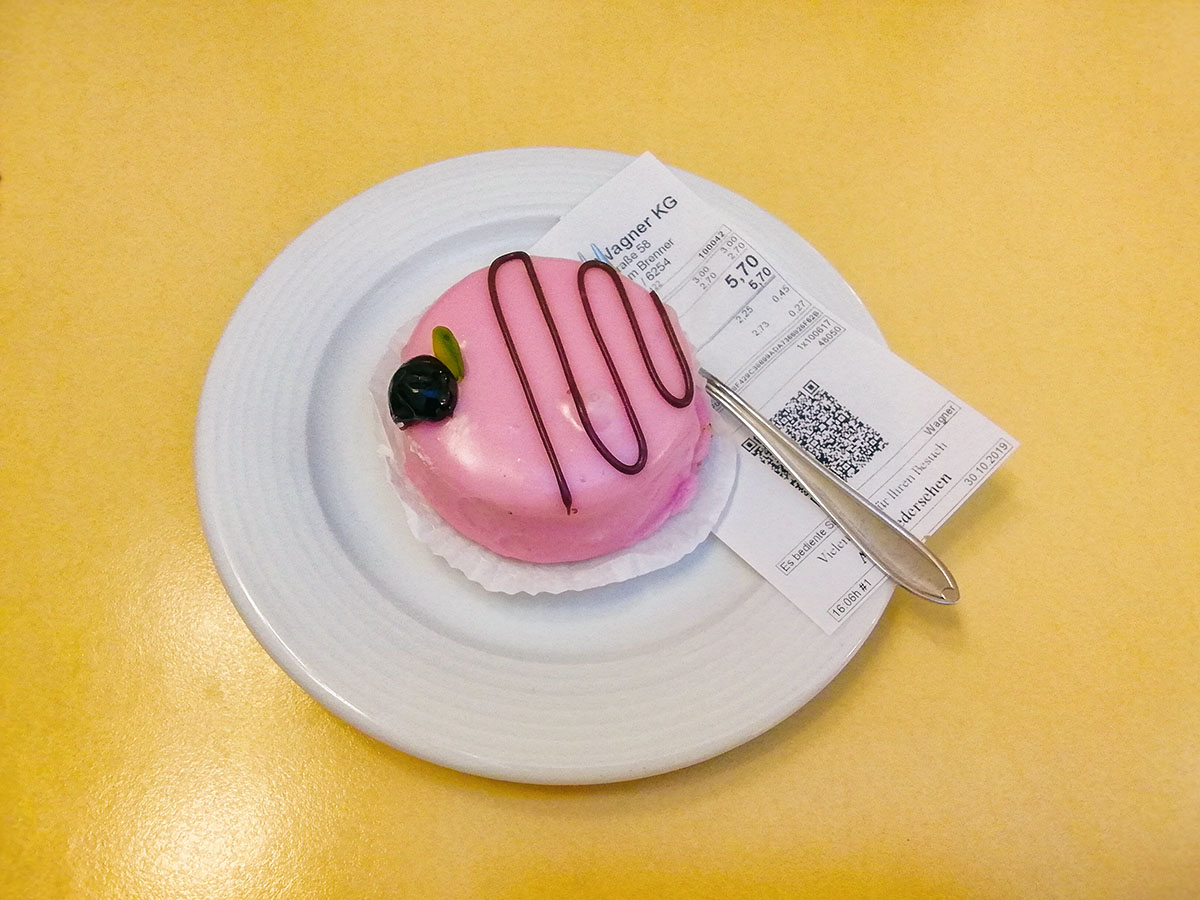 The selection of pastries looks very appealing. I'll think about what we'll wrap up later. Unfortunately, the lady is pretty annoyed, so it goes to Mr.Bag and he prefers to sit down at a table without ordering a cake. From that point on, I actually feel more uncomfortable and unwell. So I order a cappucino for Mr.Bag, for me still mineral water, which I have to redeploy to a glass of tap water because it is not kept. As a side dish to the water I choose this beautiful, pink classic of Austrian baking culture, a punch cake. Yummy, I'm looking forward to it .. The lady asks me if we want to eat it here, or if we want to take it with us. I answer friendly, maybe it will change your mood, "Here please" and go to our seat.
Simple und traditional
The Cafe cake shop Wagner is really decorated in a simple, traditional style. It's the middle of the week and inside there are only two elderly ladies at a coffee party, a young woman typing a cellphone cappuccino and a businessman reading a newspaper and an espresso in the front. The back area of ​​the cafe is not lit - so I guess the staff does not expect more guests today. For Mr.Bag and me very pleasant - we do not like the crowded so much. Despite the few guests, it takes us to another, younger waitress serves. First, I get the pink punch cake already served with a bill. On my tap water is forgotten, although I had heard how the elderly lady ordered the order with my tap water. Five minutes later Mr.Bag gets his cappuccino. The candle at the table we light ourselves or is it just to look there ?! The mood is in the basement - too bad. I would love to report something else here, but unfortunately I experience this visit just like that. Mr.Bag goes even further and thinks that this is more reminiscent of an aging tavern, but not of a patisserie. The front area is visually inviting, but the back area resembles a witthouse whose decor simply best describes the word.
Service charge
When I open the Bordeaux-red cafe card, I first see what else will happen to me - namely a service surcharge - of course, nobody says anything. Now I ask Mr.Bag if we are still here in Austria or already in Italy. A service surcharge I know only from Italy, but that's the way it is here in the Cafe Wagner. When the waitress walks by, I ask her to settle the bill right away, because actually I just want to get out of there as soon as possible. My mini tart and the cappuccino make 5,70 €, whereupon I pay 20 €. She goes back and after a while she brings me back € 4.30. Woow, I have to digest my shock first, should this be the service surcharge? I look at the bill and immediately it was clear to me: the surcharge had already been included. So I go back to the waitress and make you aware that I paid 20 euros, but only got back € 4.30. She apologizes and actually brings me 10 euros back .. Hmmm, at the good start in this cafe I really do not remember what to think. There is only one thing left in the head: eat cake, drink cappuccino and just get out of here.
The taste
But how does my punch cake and cappuccino taste? The sweet punch cake tastes really sweet, even very sweet, actually too sweet. Now that I want to hear Mr. Bagag's opinion, I let him taste a piece. Both of us find the glaze way too thick and way too sweet. So the punch cakes from the supermarket we find better. They are more balanced in taste. But that's just our personal opinion and as we know, taste is real. The inside of the tartlet, on the other hand, tastes ok. The cappuccino was visually with nice foam, but the taste rather average. Actually, we just want more away, because the end of this failed pastry visit began when entering the restaurant. A take home of cake pieces for home was worth no thought to us.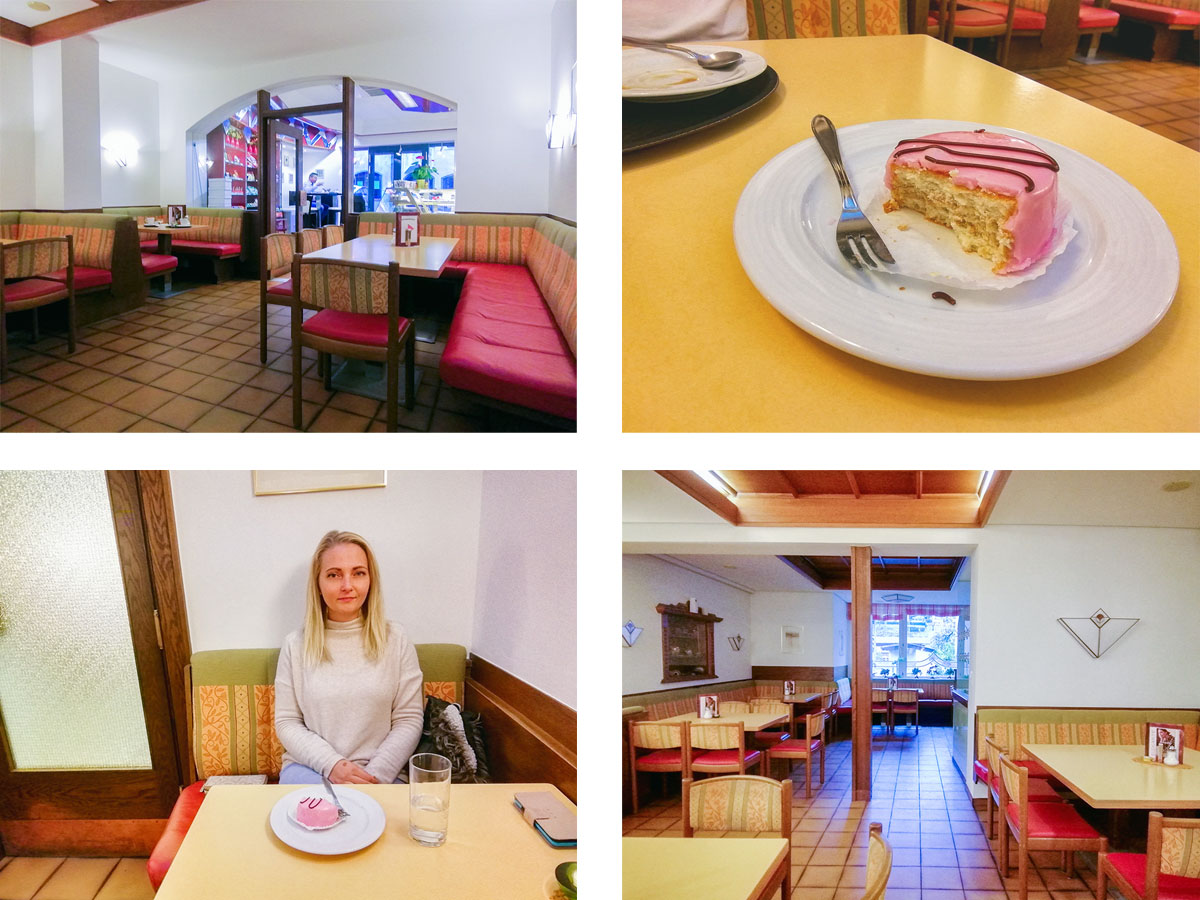 Summary
I think this cafe has potential. The staff of a restaurant is only as good as the correct training by the boss. There is clearly a lot of catching up to do. Good and qualified staff and the atmosphere and the ambience play just as important as the quality of the food and drinks. So we definitely did not have this "great, enjoyable afternoon in this harmonious coffee house", as promised on the homepage. Of course, we also like to be convinced of the opposite, but apparently some still do not know that there is no second chance for the first impression. Brings some love and passion in the Bude.Ein friendly, courteous and courteous treatment of guests, colleagues and employees is the basis for each inn success. Guests who are warmly welcomed and looked after, will gladly come again. If you twisted a few screws here, we believe that Wagner's pastry shop can do it better than it has been presented to us here and now.
This amount is not to be understood as the text of a professional gastronomy critic, but merely reflects our personal feelings as guests of this restaurant.
Perhaps these book suggestions will offer interesting inspirations to give guests an unforgettable coffeehouse experience.
Amazon-Werbelinks