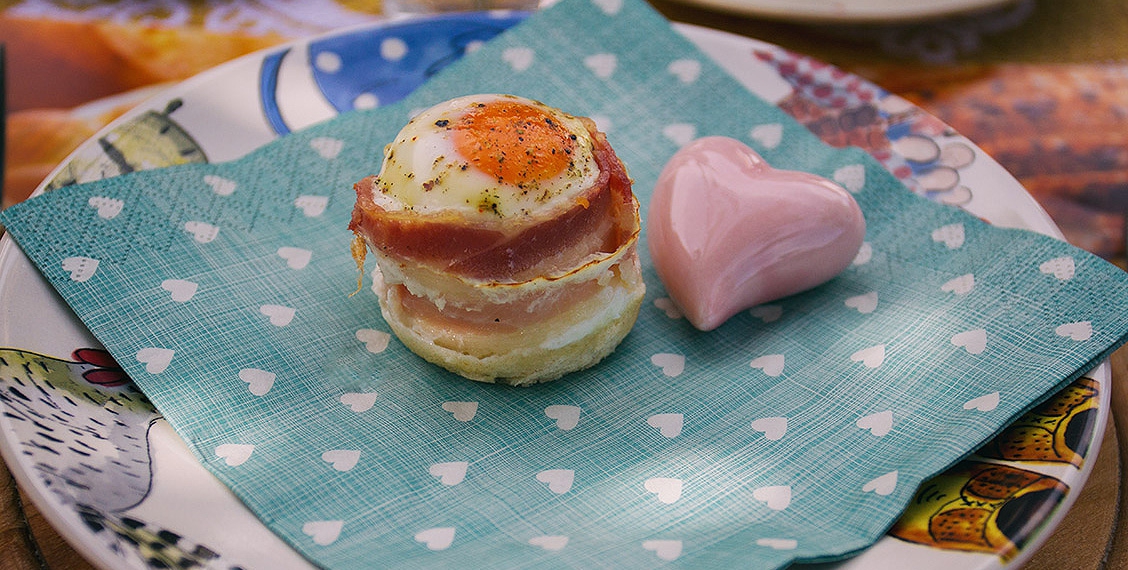 What am I doing for breakfast today?
Preferably a simple and delicious treat that tastes not only us adults but also children.
Fast and tasty - the simple egg-bacon-muffin
Many of you have heard that my sister is vacationing with her family for the first time. We enjoy this time together - because we are separated by almost 1000 kilometers, our mutual visits are very limited. And of course now also by the children, because such a long journey with such small children is no longer Klax. The more we look forward to the happy moments together.
We prefer to start the day with a colorful, cozy and varied brunch on the terrace in the garden - most of the children may choose what they want and of course they can also help, which is a lot of fun. I love this family breakfast - it's so nice when the tantalizing scent of hot coffee, tea, cocoa, fresh pastries, pancakes, muffins, or whatever we're cooking right now, runs through the house. Every time I make a lot of effort to decorate the table nicely and to make everything comfortable - so that we can spend our brunch together in a relaxed atmosphere.
I think so to have breakfast, outdoor with children already has certain advantages. Since the children are usually the first to finish eating, they can start right away and play in the garden or in the sandbox. So mom and dad have some time left to have their breakfast and we still have the kids under supervision. For a little hunger in between, we have the kids a mini-table worried, where always something to drink and snorkel ready.
Today we have decided for baby frankfurters and hearty egg bacon muffins. In addition, melon in star shape and ready is our delicious breakfast. Yeah right egg-bacon Muffin actually a breakfast classic, but this time served very differently. After all, the children should also be animated to eat. A muffin shape is perfect for the little children's hands. These bacon-egg muffins are also perfect as e.g. a fun party snack.
It's so easy to prepare that even the biggest cooks can conjure them up on the table in a jiffy! The workload for six muffins is just 5 minutes, the rest is done by the oven and after a maximum of 15 minutes they are already on the table. What more do you want! We had already brought fresh eggs yesterday from our farmer's neighbor Maria. So now you can start with our fast step-by-step preparation. By the way, I'll tell you a little secret: our godchildren love these egg bacon muffins.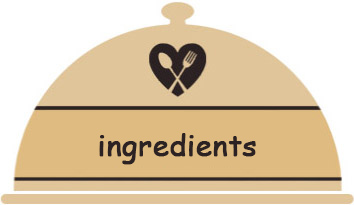 | | |
| --- | --- |
| | |
| 6 pieces | toastbread (piece) |
| 6 pieces | bacon (piece) |
| 6 pieces | eggs |
| ca 40g | Gouda or other melting cheese |
| 1 EL | butter |
| | fresh chives |
| | salt and pepper |
| | Muffin form |
| | rollin pin |
| | circle cutter or a glas |
| | |
| | |
| | |
| | |
| | |
| | |
I did it that way:


Apron around, preheat the oven to about 175C. Gradually roll out the slices of toast with a rolling pin and cut out suitable circles for muffin shape. (You can make French toast from the rest of the toast later on.) Brush with some liquid butter and flatten into the muffin tin.


Place the bacon nicely round in the muffin molds to create a hollow.
(Who wants to can sauté the bacon in a pan, then it is still much crisper)
Put in a little cream cheese.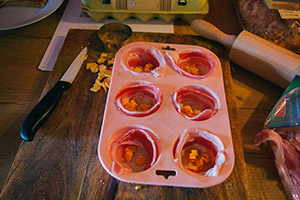 Whip 1 egg and place in the bacon-lined wells.
Bake in the oven for about 10 max 15 minutes
(keep taking a look in the oven - every oven works differently).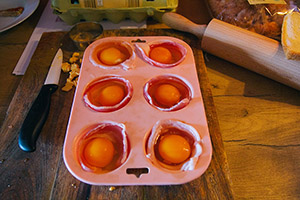 At the end, shortly from serving cut the chives into small rolls and garnish the finished egg bacon muffins with it.
Season with pepper and salt and serve warm - that's the best way to taste it.


Have fun to make it !