Sandwiches as a spicy, edible Christmas wreath
The time around Christmas has a magic that you can not escape and because I like to make others happy, this edible Christmas wreath has been created.
Colorful, cheerful and without much effort - spicy edible Christmas wreath

!
This post will be declared based on branding and links.
Doing something for yourself and creating for others grounded and relaxed. In this dark season it is nice to have something green at home. A few evergreen branches of coniferous wood spread the forest scent in the apartment and drive away the evil spirits. If you light a candle with Advent light or Adventstee with cozy light, then you spend the time also like at home.
The question today is: what do I serve today for the Advent tea?

I took extra time and thought about how I could pamper my loved ones. Not only with beautiful decoration, but also culinary.
I was invited by my dear neighbor Katrin to a party and I really want to bring along a suitable snack. It occurred to me that last year, for Christian, I had sandwiches for one of his favorite spreads, in the form of an edible Christmas wreath. It's exactly this edible Christmas wreath that I want to prepare today. I find this wreath a very original, decorative and tasty idea for every Advent table, whether as an appetizer or as a small snack at the Advent tea.
Before we start, here's the recipe for the delicious one Gorgonzola spread.

PS: below you will also find the pictures of last year - I am very happy when I look at them and see that I have improved a lot in terms of photography and composition but judge for yourself.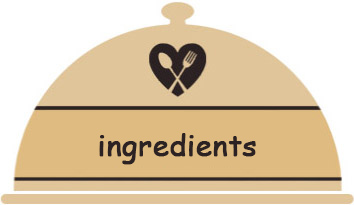 | | |
| --- | --- |
| | Enthält Amazon-Links / ads |
| 100 gr | Gorgonzola spread selfmade |
| 1 piece | Lollo green salad/leaf lettuce |
| 1 piece | red paprika |
| 1 piece | yellow paprika |
| 1 piece | fresh nut bagette or. sandwich |
| a few | small cherry tomatoes |
| | |
| | also you need: |
| | smelling candle |
| | good tasting tea or Glühwein |
| | big plate or board |
| | |
| | |
| | |
| | |
| | |

I did it that way:


Wash lettuce leaves, pat dry and set aside.
Cherry Tomatoes and peppers also wash, dry and set aside.
Prepare the gorgonzola spread. Cut the fresh baguette into equal slices.
Make a circle out of it - so you know how much you need for your circle.
Spread the slices with the spread to taste. Now come the matching shredded salad leaves as a topping on the rolls.
For the middle of the Christmas wreath you cut the wreath stitch as in my picture of red pepper.
Halve the cherry tomatoes in half and place them on the rolls with the salad.
Cut the yellow pepper into small cubes and sprinkle the bread with it.
In the middle of the plate comes a fragrant candle and finished is our eye and culinary delight.

You can of course prepare your edible Christmas wreath according to your preferences.
If you have tried this idea I will be happy about your pictures or a comment.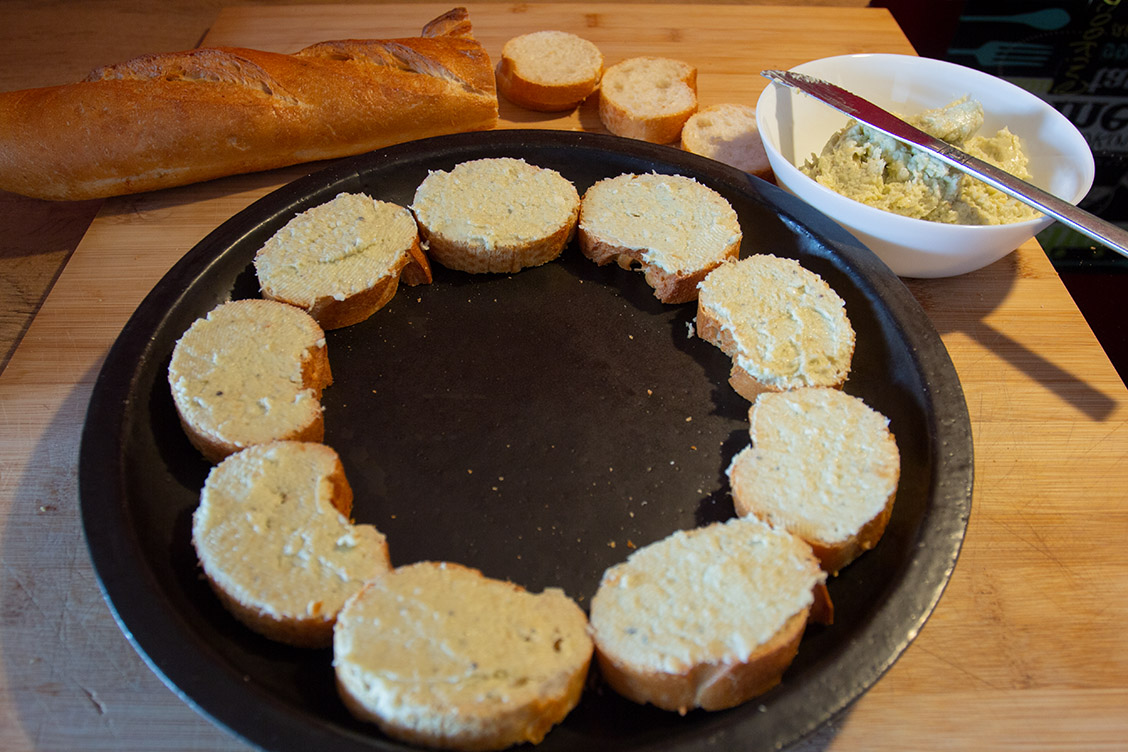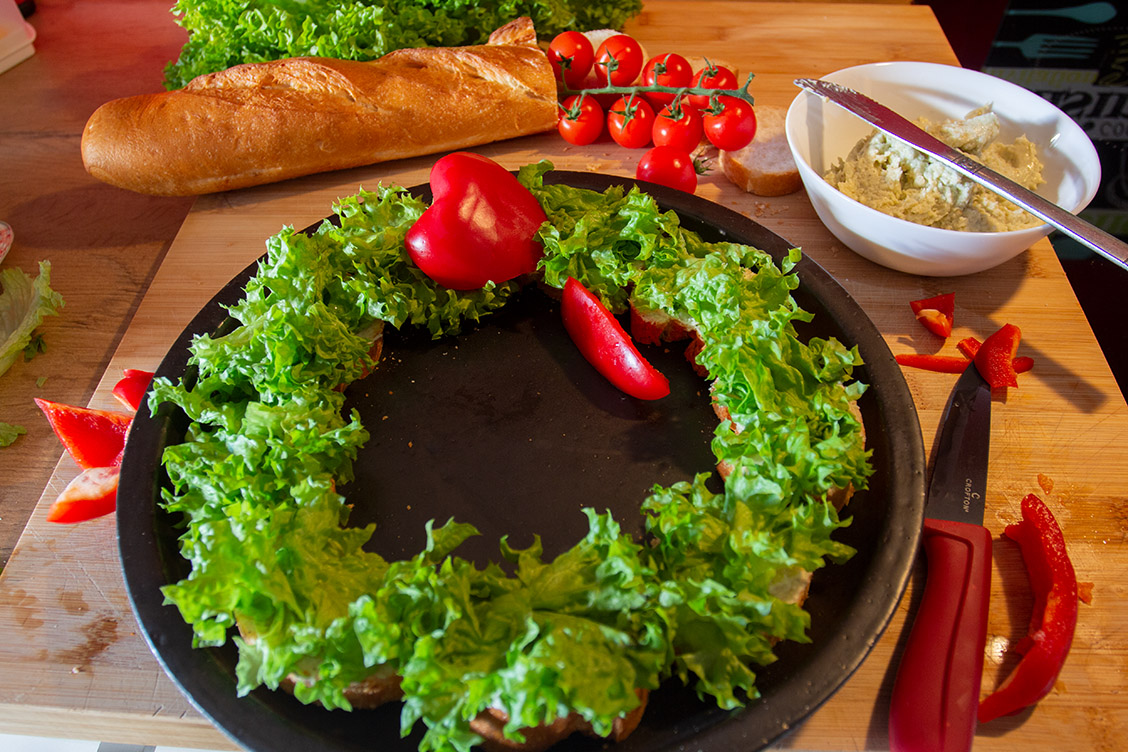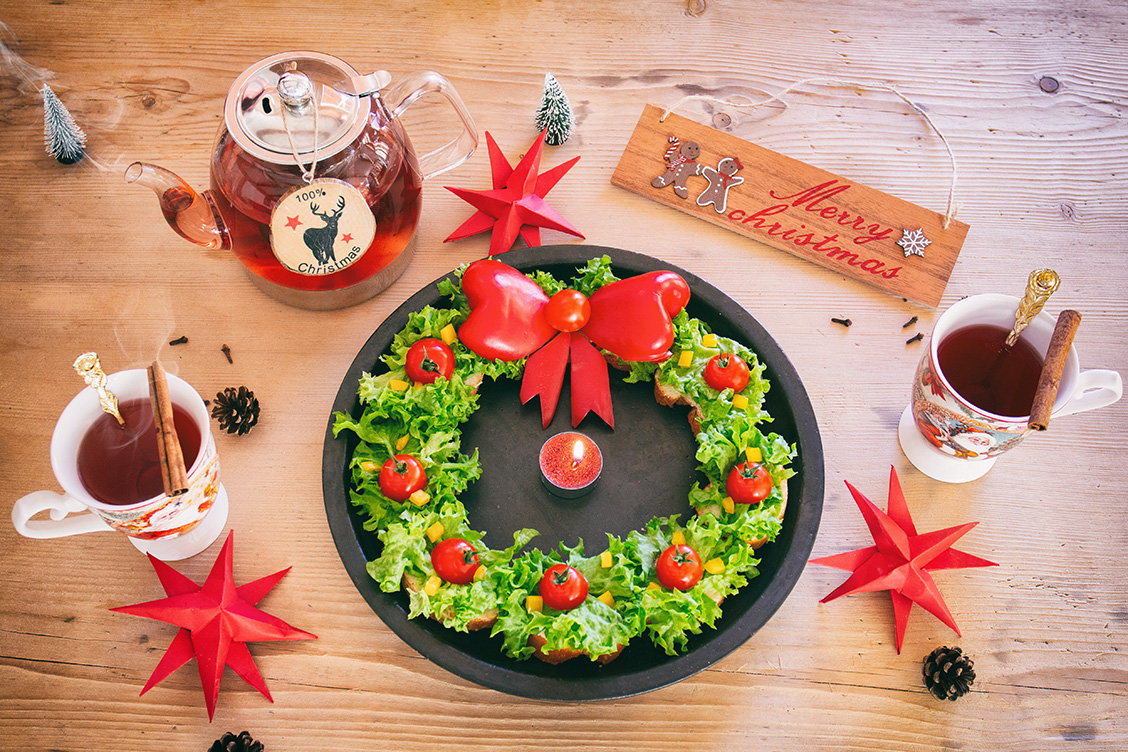 If you liked my recipe and pictures, I would appreciate your feedback and comments.
Have fun while copying.