The mood is rising - rosy times begin!
The rose - the queen of flowers. Her beauty and her aromas not only pamper her eyes and nose, but also spoils her palate in her exquisite cuisine.
Duchess Rosa Lavela - my cake as a tribute to the flower of love.
At the moment I'm intoxicated with the many roses in my garden. Roses are a true classic and yet always trendy. They bloom in beautiful colors and shapes, please the eye, the nose, the soul and also the palate. Since I wanted to bloom properly with my roses, I have allowed myself to fit in the partner look a really nice rose dress.
So the "working in garden" makes just so much more fun.

A few days ago our very good friend Andreas visited us in the mountains. I wanted to spoil our guest with something special. Recently, I tried to make rose jam and rose musk to preserve this beguiling, fleeting beauty of roses in a special way. Getting up early in the morning and armed with an apron and my favorite magazine, I came across a very interesting recipe for a rose cake while browsing. Perfect - Rose melon cake - something very special for our visitor. The recipe read a bit strange, but I started. Unfortunately, I invested a lot of time in baking - I had to bake the cake mass twice, because neither the mass information nor the baking times had be right. The part with the melon I had even something improved - but long story short - it was the total mess. I was so disappointed and embarrassed myself to the bone. Andreas had to wait all the time for my wonderfully special cake, because I did not finish in time.
And then the meltdown: the melon taste had the complete valuable rose aroma and the rose taste over-whitewashed. It just did not taste at all. Together, we rummaged through the magazine again, because I just could not believe that the recipe had voted - neither time nor ingredients. For a long time we had discussed and philosophized about this together. The evening has only saved my garden salad, with my special herbs and alps topping lemon balm and honey marinade. Nevertheless, I was mega-disappointed. I had vowed to rely more on my intuition in the future. At the same time, I had decided to re-create the rose cake in my own way.
I had only waited for a special occasion and, of course, waiting for replenishment of our roses with flowers.
This event had come now. It was only a hair's breadth that I managed to sign up for the Austria Food Blog Award, as we were not quite finished with the reponsive design of our site.
We wanted to duly celebrate this: the idea of ​​the own rose cake made of real roses and rosepuree was born. We made it this weekend, finally we can also go online on Facebook and Co. My Freud has spent the weekend with the responsive design of our website and successfully solved this challenge. Now the really rosy times begin. For this reason, I spoiled myself yesterday evening extensively with the aromas of the rose.
It was a stylish break after all the stress. The "Duchess Rosa Lavela" - that's what I called my rose creation - tasted great and in my opinion was completely successful. In any case, I was met with double luck - successful website design and successful new recipe.
Today I present you my "Duchess Rosa Lavela" cake and I am looking forward to your feedback.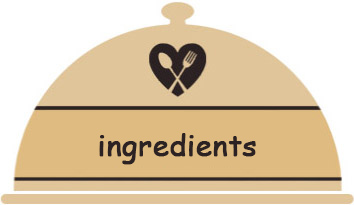 for the dough: (Springform heart 22cm)

4 pieces

eggs
180 gr

sugar
1 EL

Lavender syrup
170 gr
flour

30 gr

food starch


2 TL

baking powder


2 TL

fresh Lavender flowers / opt. 1 TL dried flowers

1 Stück

BIO lemon

3 EL

lemon balm honey

2 EL

roses water


1/2 TL

Ssalt
bakingspray

for the filling

:



130 gr

Mascarpone
130 gr

quark

200 gr

cream
200 gr

Rosespuree or roses marmelade

80 gr

powdered sugar

1 EL
rose water

for the trimming:



1 Stück

protein

150 gr

finest sugar

1 EL

water
leafs of 3 BIO roses

2-3 Stück

Lavender stalk

2 Stück

little rosee

other flowers to eat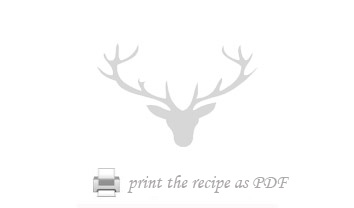 Lucina´s tips:
Lavender syrup is easy to make yourself or you can buy it.
My treetop lemon balm honey can also be replaced with normal bee honey.
You can also make the Rosenmus or the Rosenmarmelade yourself or you can get it in a good Turkish shop.
If you do not have fresh lavender flowers, you can also use dried ones from the pharmacy - but only half the amount!
Please confess the BIO-rose petals the day before!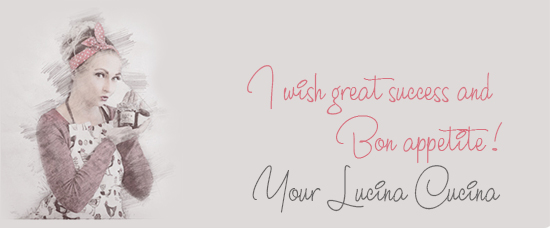 I did it that way:


This time we start the day before with the candying of the rose petals.
Mix the egg whites with 1 tbsp water, do not bubble, so that no air bubbles are produced.
Brush the rose petals with egg white with a brush, then dust with the sugar.

The next day, turn over the apron and preheat the oven to 180 degrees upper / lower heat.

Separate the eggs and whisk the egg whites while slowly adding salt, sugar and the lavender syrup.

The egg yolk undergo. Mix the flour with the starch and baking powder, fold into the egg mass and carefully fold in.
At the very end, add the lavender flowers, fold them carefully.


Apply grease to the springform pan with baking spray.


Fill the biscuit mass into the mold and smooth it out. Bake in preheated oven for 30-35 minutes. Cover with aluminum foil, the surface should threaten to become dark. Let cool down.
In the meantime, rinse the lemon hot and drizzle dry.
Rub the peel of the fruit finely, squeeze out the gently of the whole fruit.
Mix the lemon juice with the honey and rose water.

Mix the quark and the mascarpone with the lemon zest, Rosenmus and the sugar.
Finely chop the rose petals and fold in with 1 teaspoon rose water.
Beat the cream until stiff and fold in the same way.
Remove the biscuit from the tin and halve it horizontally.
Place the lower part on a cake plate and sprinkle with half of the honey mixture.
Then distribute half of the prepared cream on top.


Place the second part of the biscuit, lightly press and sprinkle with the remaining half of the honey mixture.
Then spread the cream over the whole cake.
Lush with the candied rose petals and decorate according to your imagination.
Viola, after serving just serve more.


Did you try the recipe?
Then leave me a comment or link to your photo on social media with the hashtag #lucinacucina
I am looking forward to your feedback!
Die Rosenblätter mindestens einen Tag davor kandieren.

Den unteren Teil auf eine Tortenplatte setzen und mit der Hälfte der Honigmischung betäufeln.
Anschließend die Hälfte der vorbereiteten Creme darauf verteilen.

Den zweiten Teil des Biskuits auflegen, leicht andrücken und mit der restlichen Hälfte der Honigmischung betäufeln. Anschließend die Creme über die gesamte Torte verstreichen.
Mit den candierten Rosenblättern üppig belegen und ganz nach eurer Fantasie dekorieren.

Den fertiggebackenen Biskuit von der Form lösen und waagrecht halbieren.

Achten Sie beim Verarbeiten darauf, dass die Rosenblüten frisch und ungespritzt sind. Geerntet werden kann von Juni bis Mitte August. Der beste Termin ist am späten Vormittag, wenn die Blüten und Blätter trocken sind.
An Regentagen haben Rosen bei weitem nicht den Duft.

Unsere Zutaten für den Bisquitteig.

Die Eier trennen und das Eiweiss gemeinsam mit Salz, Zucker und Sirup steifschlagen.

Das Eigelb unterziehen. Das Mehl mit Stärke und Backpulver vermischen, in die Eimasse sieben und vorsichtig unterheben.

Ganz zum Schluss kommen die Lavendelblüten dazu, diese vorsichtig unterheben.

Die Backform ordentlich einfetten.

Die Biskuitmasse in die Form füllen und darin glattstreichen. Im vorgeheiztem Ofen 30–35 Minuten backen. Mit Alufolie abdecken, sollte die Oberfläche drohen, zu dunkel zu werden. Auskühlen lassen.

Dies sind die Zutaten für unsere Rosenfüllung.

Den Quark und den Mascarpone mit der Zitronenschale, Rosenmus und dem Zucker vermengen. Die Rosenblätter fein hacken und gemeinsam mit 1 TL Rosenwasser unterheben. Sahne steif schlagen und ebenfalls unterheben.

Den Kuchen abkühlen lassen.