Here's my recipe for my self-made rustic-rural, pre-Christmas magic forest cake.
With this recipe, I participated in the Bakemycake Award 2017 for the first time this year.
Here is my recipe for my own rustic rural, full of joy I have this year the personal invitation of Melanie (iamfemme.at) followed. I was chosen as one of 50 bloggers to join the Bakemycake Award. We got all 2 packages sponsored, one from dr. Oetker and one of Mömax. Well, since I have no experience with such awards, I thought, I'll let me surprise.
My surprise was very great when I first received the packet from Dr. Ing. Oetker got. There were a lot of great baking utensils in there and, frankly, I was amazed at how much this company tasted this package. Great bakery decorations, fondant in all colors and many other useful things were included. Below I have again photographed the two packages, so I can show you. When Mömax Paketchen my joy was a bit more decent. This included a cake tin assortment, but nevertheless equally useful.

The task was to come up with a recipe for yourself and use as much of the stuff as possible. Still, it had to be easy to bake and of course, the photos and the text would be rated. For the winner in my category Cakes & Sweets there is a kitchen machine by Kitchenaid to win, and then the recipe would be printed in the Viennese woman.

Even though I do not really know what I have to say about such an Award Back-Contest, I got down to work and within a day I came up with a special recipe, which I now want to share with you. I've tried to use as much of the gift assortment as possible, keep it simple, and shape it to make it taste good too. Believe me, it was the first time I worked with fondant. I've always shied away from that because you kept hearing that this was not so easy. I have done it and I tell you, it is not so hard, at least I think that my cake has got a pretty passable look. Of course, I choose as a motive my passion for rural life and I think that the Hirsch-Shilloutte is doing very well. If you do not like it, you can always change the motif and decoration of the cake according to your preferences. There are all doors open for you.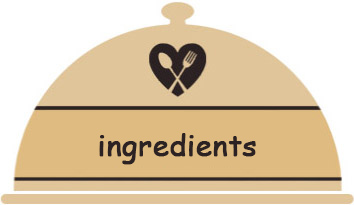 | | |
| --- | --- |
| | for the body |
| 500 g | butter |
| 300 g | sugar |
| 1 pckg | Dr.oetker vanilla sugar |
| 1 TL | Dr.Oetker vanille paste |
| 8 pieces | eggs |
| 300 g | honey |
| 200 g | Dr.Oetker nut nougat mass |
| 1 piece | fresh ginger |
| 12 g | Dr.Oetker citron peel |
| 5 Tl | ginger |
| 3 Tl | ginger bread powder |
| 1 TL | cardamom |
| 800 g | flour |
| 2 TL | Dr.Oetker baking powder |
| 2 TL | Dr.Oetker baking soda/Natron |
| 4 El | cacao |
| 600 ml | milk |
| 1 piece | Dr.Oetker baking spray |
| 1 piece | Dr.Oetker baking glove |
| | |
| | for the plum-pudding cream |
| 1/2 L | milk |
| 90 g | sugar |
| 1 pckg | Dr.Oetker vanilla sugar |
| 1 pckg | Dr.Oetker vanilla pudding |
| 8 pieces | Dr.Oetker leaf of gelatine |
| 3 El | Rum |
| 300 g | Mascarpone |
| 250 ml | plum-marmelade |
| | |
| | for the andarines-paradies-cream |
| 1 pckg | Dr.Oetker Paradies cream vanilla |
| 1 pckg | Dr.Oetker pistachios |
| 300 ml | cold milk |
| 250 ml | mandarines-marmelade |
| 5 pieces | Dr.Oetker leaf of gelatines |
| | |
| | To soak the bottoms |
| 2 El | orangen syrup |
| 4 EL | honey |
| | juice of 2 Zitronen + peel |
| | |
| 250 ml | cranberry-marmelade |
| | |
| | to decorate |
| | bitter sweet ganache |
| | sugar syrup |
| 1500 g | Dr.Oetker white roll fondant |
| 1 pckg | Dr.Oetker cacao glaze |
| 1 pckg | Dr.Oetker Perl Mix |
Lucina´s tips:

Sugar syrup:
For the production of clarified sugar simply boil the same parts of water and sugar and then important before processing: allow to cool.

Bitter sweet ganache :
Melt 300g of dark chocolate in 100ml of boiling cream (before breaking the chocolate into pieces) and stir with the whisk. Once the pieces of chocolate have melted decant the mass and place in the refrigerator. Once the mass has fridge temperature, whip up with the blender until it's a stiffer cream. Then process.
If someone just wants to make a single-tier cake, just take half the amount everywhere.
For easier processing of fondant, rub hands with coconut oil before kneading.

If you want to make a siple cake, take the half of the amounts!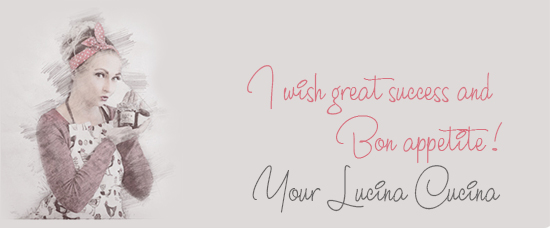 I did it that way:


For the body:
Cut soft butter into pieces and whip together with sugar, vanilla sugar and vanilla paste until foamy with a hand mixer.
Then gradually add the eggs and honey.

Cut the nougat mass into pieces and let it melt into warmed milk.
Allow nougat milk to cool.


Peel ginger and finely grate.
Mix together with lemon peel and spices in the mass.
Then flour with baking soda and soda and let simmer together with the cocoa.
Add slowly cooled nougat milk and process to a smooth dough.

The 2 springform forms (26 cm) with Dr. med. Spray Oetker Backspray thinly and evenly and fill the dough with the same amount and smooth.


Slide the molds on the grid of the preheated tube.
Upper / lower heat: 175 ° C.
Baking time: approx. 100 min. Absolutely do a chopstick tasting!
Cover with aluminum foil, the surface should threaten to become dark. Let cool down.


For the plum pudding cream:
Milk with sugar and vanilla sugar and the custard powder with stirring to a pudding boil.
Allow to cool, stirring several times, then fold in plum jam and mascarpone.
Prepare the gelatine according to the package instructions, warm with rum and stir in the mixture.
Meanwhile, cool down.
For the mandarines-paradies-cream:
Prepare paradise cream powder with milk according to the package instructions.
Fold in pistachios and mandarin jam.
Prepare the gelatine according to the package instructions and stir into the mass.
Refrigerate.


To soak the cake bottoms:
From both cake bottoms cut off the dome horizontally.
Cut the two cut cake trays 1 time.
Mix orange syrup, honey, lemon juice and their attrition and soak all the cake bottoms.
Spread a portion of the cranberry jam on the bottom of the cake and then cover with a portion of plum-pudding cream.
Put on the next floor, lightly press and sprinkle with tangerine paradise cream.
Now the same thing is repeated again.
Make sure that you have the bottom of the second body as the top lid - then you have a nice even cake topper.
Mix the two remaining creams together and coat the cake thinly with the cream all around.
Leave to cool for approx. 1 hour.

to decorate the pie:
Now coat the cake with bittersweet ganache and chill again for about 1 hour.
Brush the cake with claret sugar.
Knead the rolled fondant well, roll out on a work surface sprinkled with cornstarch and cover the cake with it.
Drip the cocoa glaze over the upper edge of the cake to create a drip effect. Smooth the rest of the cocoa glaze over the pie lid.
Now put the beads on.
Cut a deer antler out of fondant according to a template and place it on the cake topper.
Finished

I participated in the Bakemycake Award 2017 with this magic forest cake.
If you like the cake, please vote for me, so that I am in the top 10.
You can win great prizes! Here is the link to it

https://www.iamfemme.at/wettbewerbe/bake-my-cake-award-2017-cakes-sweets/teilnehmer/lucina-cucina-zauberwald-torte?order=votes