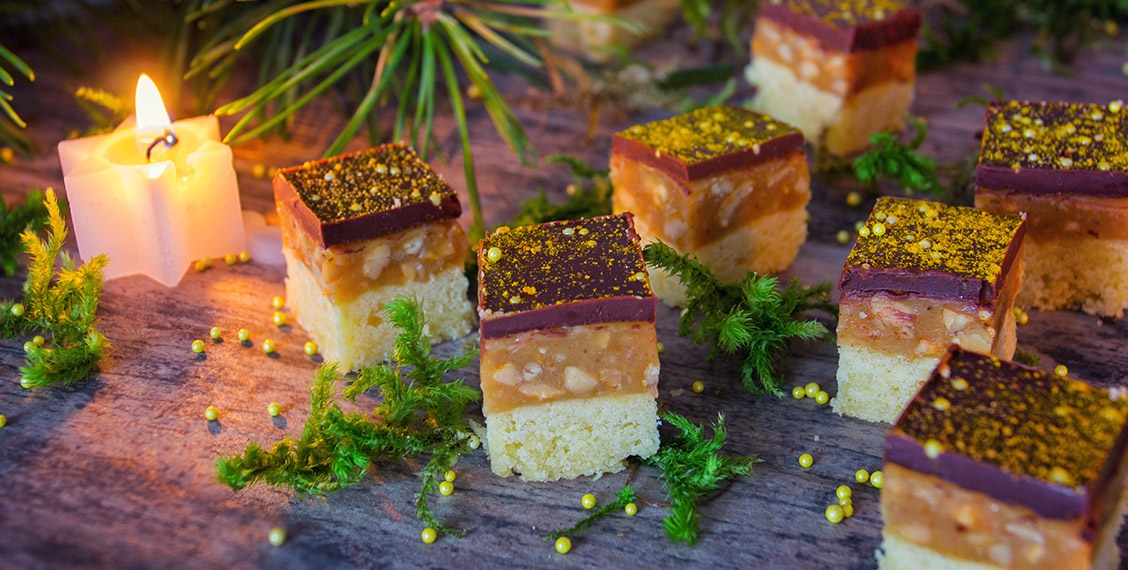 Peanuts-caramel-cubes with turmeric and stardust
This time I have prepared you a recipe that reminds me a lot of the Christmas time as a child.
I'm sitting on the couch, drinking hot tea and thinking a little. Ahhh Christmas, the magical day of the year when everything seems possible, is getting closer and closer.

How the Christ child looks like?
I do not think that's exactly what any of us know.
Although, every one of us has seen it. At least in your own imagination and in many different children's films and screenings. But what does it really look like?
Oh, it was a great time, as a child, to wait for Christmas Eve, write letters to Christ and put them on the window sill.
And in the morning they discovered golden dust, which the angels left behind, who brought the letter directly to the Christ Child and, above all, watched us how good you were all year round. I still remember it so well when the bell rang for the party and we went outside with dad to find the big star in the sky. Of course, Mama has had to tidy everything up after dinner - it's just not possible that the Christ child will get into such a mess.
Only when you have found the right, largest and the brightest shining star, it has been said, now the Christ Child was with us, now we may clean. We all ran into the house, in our living room and saw it. Nearly. At least some angel hair was still there. And the window was still open. "There," said the parents, pointing up to the sky. "Do you see it?" "Yes! Yes! No! I do not know "but did not do anything. Anyway, other things were more important anyway.
The Christmas tree smelled and sparkled, the excitement conjured us red cheeks in the face - high time to unpack presents!
How beautiful Christmas could be when you were still a child. If you were good and good, then there was not only delicious food with the family, but also the much-anticipated toys, which you had already desired all year long. As you can see, I was a good kid, because I actually got the pull of the Christ Child I always wanted. Just beautiful the memories of the beautiful Christmas season in childhood.
And how beautiful it can be even as an adult, if you do not let yourself be infected by the hectic pace of these days,
when you come to rest, that takes time,
when you realize that this point in time does not come back in life and therefore consciously savor this moment.
If you enjoy, for example, these homemade peanut-caramel cubes with turmeric and golden stardust.

Will your memories of childhood awaken again?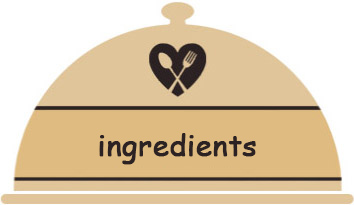 | | |
| --- | --- |
| | For the dough |
| 190 g | soft butter |
| 165 g | fine sugar |
| 1 Sück | egg yolk |
| 2 TL | backingpowder |
| 300 g | flour |
| 1 Stück | baking spray |
| 1 TL | Curcuma |
| 1 Stück | square shape with loose bottom 26x26cm |
| | |
| | for the covering: |
| 600 g | Sweetened condensed milk |
| 4 EL | maple syrup |
| 45 g | butter |
| 210 g | peanuts (roasted, salten) |
| 100 g | dark Lindt chocolate |
| 200 g | dark cooking chocolate |
| 30 g | coconut oil |
| | |
| | grounded curcuma |
| | and golden sugar pearls for decoration |
| | |

I did it that way:


Preheat oven to 170 ° C top / bottom heat.

Beat butter, sugar and egg yolk until creamy.
Add flour with baking powder.
Rest for 5 minutes.


Grease baking tin with baking release spray.
Pour the dough into the mold, press out towards the edges and pierce with a fork.
Pre-bake the dough for about 15 minutes, bring out and allow to cool.

Finely chop nuts with electric crusher.
Simmer condensed milk, butter and maple syrup in the pan over medium heat for about 15-20 minutes to golden brown caramel.
Caution always stir! Risk of burning. Stir in chopped nuts quickly.


Now pour quickly on the cooled dough and smooth with a cake spatula.
Then bake for another 10 - 15 minutes in a hot oven.
Allow to cool in the mold.


Melt chocolate with coconut oil.
Spread on the caramel, decorate with gold sugar pearls and chill for about 3 hours.
Dust cake with gold dust, turmeric.
Carefully cut into cubes at room temperature.
Let the cubes taste and swell in beautiful childhood memories!