Sausage advent wreath with oven cheese
With a fragrant, hearty and warm breakfast, the men's stomach can be woken up in the morning.
A real breakfast for men - sausage advent wreath!
This post will be declared based on branding and links.
The holidays are a wonderful occasion to pamper your loved ones once again.
So I got up on Sunday to surprise Mr. C. with a breakfast. As I have already told you, on the 2nd of Advent, I was waiting for a breakfast surprise with an incredibly tasty Prosecco bread. On the 3rd Sunday of Advent I wanted to surprise my master C. in return.
Unfortunately, I was not able to go shopping, so I had to deal with what my fridge was doing. It laughed at me a few sausages. Sausages are not on my favorite list, but my husband loves them all the more. Immediately I had a picture from Pinterest from last year in mind. There I had seen an Advent wreath from Frankfurter - this should be my inspiration. I also found a packet of creamy oven cheese in a corner of the fridge. This should be the center of my wreath. So we could relish the sausages in the melted cheese dipping. A cheese fondue of a very special kind. Well, if that is not a dream of a men's breakfast? For my definitely.
Just access and enjoy
What would the winter be without hearty feast? I can well imagine this sausage wreath as a great sofa snack. Whether at the long Christmas brunch or watching Christmas movies with friends, this edible Christmas wreath is definitely going well. Only bread, jam and coffee - that's yesterday's news. Surprise your gourmets with something new. This dish is not only decorative but also really tasty and in winter it may be a bit more luscious. Finally, in these icy temperatures, the calorie consumption in the body increases.
Have fun preparing this hearty breakfast.



I did it that way:


The sausage wreath

For the sausage ring, first preheat the oven to 200 ° C hot air.
Lay out the bottom of a cake tin or pizza tray with parchment paper.
Cut the sausages (depending on the length) in 5-6cm long pieces.
Since I wanted something other than just a puff pastry coat, I plaited a braid and
because I had only one puff pastry, my braid was not so wide.
The strips were exactly 1cm wide, but you can still 2-3 cm wide strips cut from the puff pastry and braid into a braid.
Then the sausages are nicely wrapped in a crunchy batter.
You do that as follows:
Take the puff pastry out of the packaging and roll it out clean.
With a ruler you cut off now about 2-3 cm thick strips.
Weave a braid from 3 strips each. This is repeated until you have used up your 2 puff pastries or pizza dough.
Make sure that the braids are always the same thickness.
Wrap the braid around each piece of sausage, cut it and place the wrapped sausage pieces in a wreath on the baking tray.
The puff pastry should touch it, so that the wreath together later.
When you've finished the sausage wreath, it's time to get started.
Braid again a braid and form into a mesh.
Put these on the wreath.
I put a small piece (end of a sausage) in the middle of the stitch.
Whisk egg with milk and salt. Brush the puff pastry with it.
Now spread the scrapped caraway on it.
Put the oven cheese in the middle of the wreath and now put it in the oven
and bake until the puff pastry is done with the cheese (about 20-25 minutes)
I wanted to decorate my wreath with some green after baking, but in the speed I forgot.
You can, for example, Spread cress or rosemary on top of it.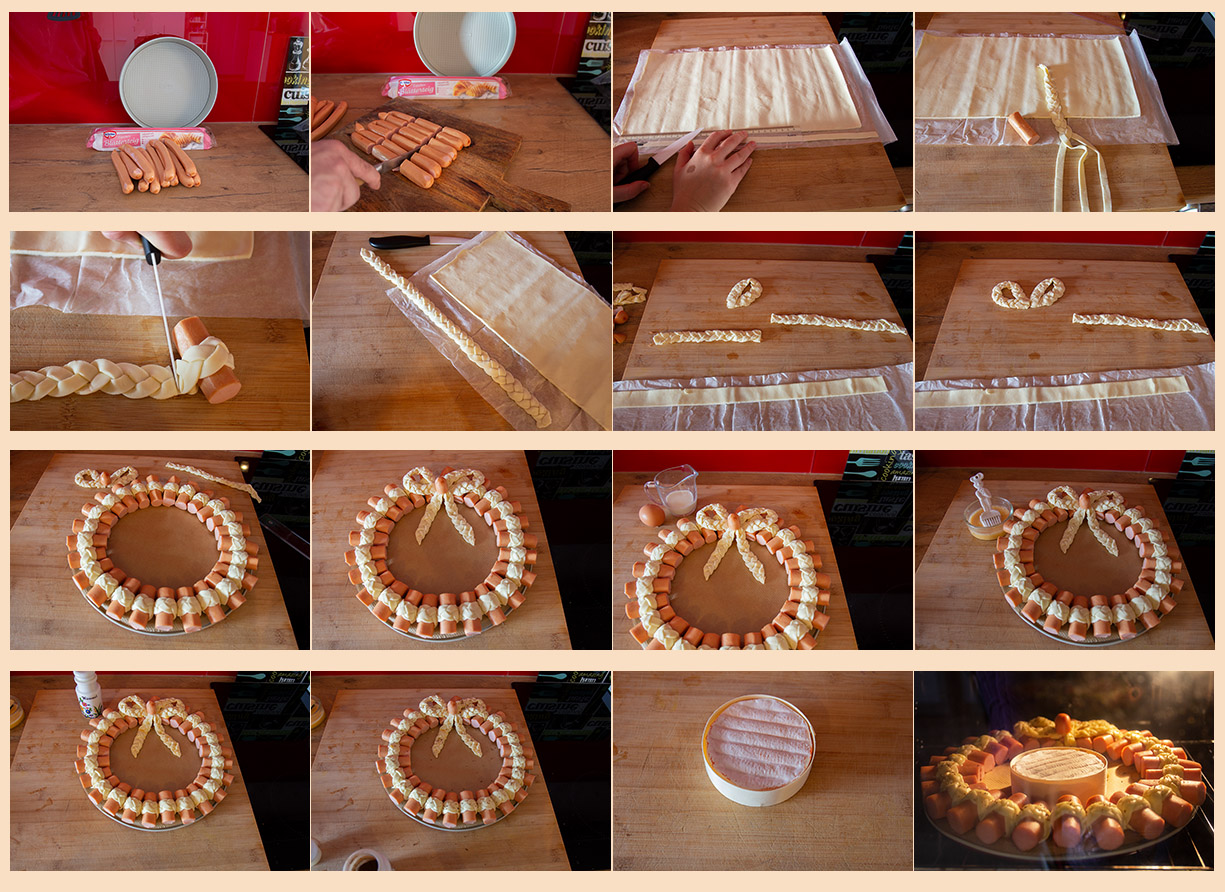 If you liked my recipe and pictures, I would appreciate your feedback and comments.
Have fun while copying.