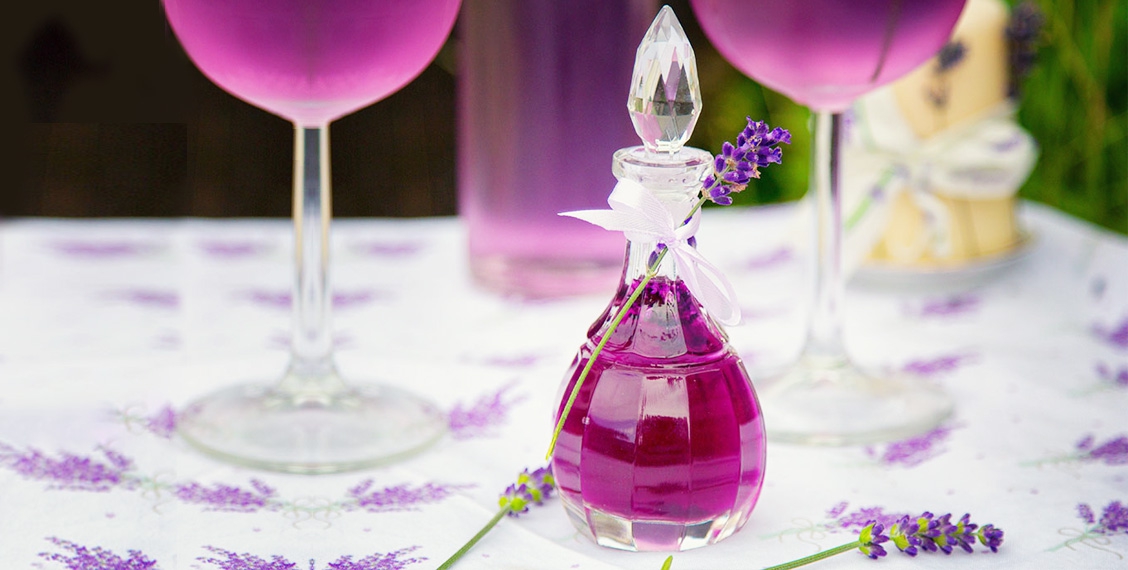 Even the Romans used lavender to make fragrant bath essences.
That is why the name Lavendula derives from the Latin word "lavare". However, we use this plant today to produce a wholesome, colorful syrup.
Lavender syrup - tastes how summer in the provence
This post will be declared based on branding and links.
At the moment, beguiling aromas are passing through my garden. The roses and lavender not only catch my attention with their fragrances and their colorful flowers, but also the bees and bumblebees can not resist this magical attraction. This is so beautiful that I can not express it in words. A caress of the eyes combined with a tender hug through the nose. A wonderful experience, for humans and animals.
I love to spend my time in the garden, because this sweet scent, which is in the air, triggers beautiful memories in my life: for example, warm, Mediterranean evenings in Tuscany.
I would like to introduce you to some interesting ideas about lavender and show you that lavender has more than just good looks. For this reason, countless recipes have been created in the summer with Lavendula. Simply a must for all lavender gourmets and rose lovers. Starting with syrup, over cakes and pies, lavender cream to lavender butter, lavender powdered sugar and especially marmalades with roses and lavender I will introduce you in this bolg over time. Also for anyone who wants to prepare extraordinary gifts, or just want to enchant his guests, will be appropriate, refined recipes here.
In today's recipe, I'll introduce my own lavender syrup. After the lavender syrup has passed the "quality assurance" by my neighbors, I will tell you the production.
Right after I made this colorful lavender syrup, it had rung at my door. My dear neighbor Maria came to give us a taste of her wonderful cooking skills. Since the weather was on this day, I had Maria in return for a cup of coffee and a glass of lavender on our terrace. All three of them, my friend, Maria and I had the opportunity to enjoy the lavender drink, with its delicate violet color, in the garden. I had a suitable middle cover for our garden table at hand and already I had not only nice visit, but at the same time also the perfect photo setup for my lavender syrup.
The purple luck was disturbed only occasionally by some beguiled wasps. However, these had the bill made without our Maria. Without further ado, Maria had locked the wasps in a glass cage, an inverted glass, but after lavender served them naturally released. Wasps are livestock and are therefore also protected. So we had a wonderful opportunity to test the effect of this wonderful drink. Not only the wonderful color composition, but also the beautiful fragrance and above all the wonderful taste of this refined drink caresses all the senses.

Since the first tasting in July, I have tried this syrup in some recipes and variants, For example, I used it in the cake "Duchess Rosa Lavela", I tried it on ice, in salads, sprayed with sparkling wine or Prosecco, I also use him in and on different desserts. And he tastes great in teas. It is also the perfect summer gift for gardeners and hobby cooks.
This syrup can be prepared with fresh lavender flowers and dried flowers. If you use dried lavender flowers, you just have to process about half the amount of flowers. In my recipe, I also half the lavender herb (leaves) mitverarbeitet, as this is very aromatic.
Today I have organized for my friend and me a wonderful Provance lavender picnic at the Haimingerberg Fountain. Sweetened our cozy afternoon picnic with my lavender lemonade and fresh lavender butter. What do you say to that? How do you like it?
So, now to the recipe and the secret, how I made this wonderful magic syrup:
PS: Step by step Photo tutorial is below to click through.
Lucina´s tips:
The lavender aroma can quickly dominate and give a dish a perfume-like or bitter taste.
Therefore you should dose lavender syrup very sparingly.
You can also use dried lavender flowers to make this syrup - but then reduce the amount by half.
Not every syrup gets such a beautiful purple color - mine was rather dark pink - which also depends on the type of lavender, but also on the sugar used. It is best to use real lavender (Lavandula angustifolia). If you want an intense purple color, you just use very little purple food coloring - I used this one. A little bit on a toothpick is enough.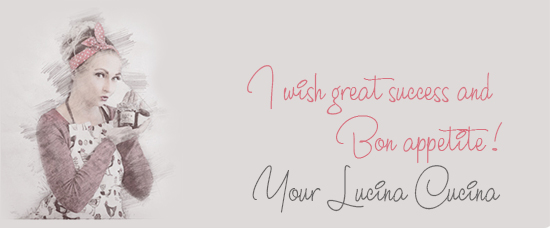 I did it that way:


Mix the water well with the sugar and warm in a saucepan until the sugar is dissolved.

Let the sugar water cool down to approx. 60 ° C.
You can measure the temperature with a household thermometer


Then pour the sugar syrup over the lavender and lavender flowers and mix well.


Slice the lemon and mix.

Immediately add the lid and leave to soak for about 3 days so that the lavender can give off its aroma.
Stir again and again.
I had the vessel on the balcony and I stirred every day in the morning and in the evening.

After the 3 days, drain the syrup with the flowers in a hair sieve.
I also used a dumpling cloth, so nothing really gets into the syrup.
Express the lavender and the flowers well.

Now cook the syrup bubbly for about 3 minutes and immediately pour into the clean, sterilized bottles
(I rinse it with hot water and then let it sterilize for about 10 -15 minutes at 180 ° C in the oven - of course without the rubber plug)
and close.

It is best to keep the lavender syrup in a dark and cool place.
After opening, store in the refrigerator and use up quickly.


Have fun playing and let me know how you succeeded!
Leave a comment or link me to your photo on social media with the hashtag #lucinacucina
I look forward to your response!