colorful vegetable quiche
Today it has to go fast!
There is a turbo recipe for a delicious vegetable quiche, which can be easily modified in all sorts of ways.
Attention advertising :-) Also, if I have financed all things and ingredients myself and absolutely not sponsored by the things used here

That day I had to go fast in the kitchen, so I did not make the dough myself. I grabbed a finished dough that I found in the fridge. Only later did I realize that it was a sweet shortcrust pastry. What the hell, an experiment was worth it. Because I have no business around the corner on the mountain, so I could have gotten a quiche shortcrust pastry. I simply wanted to bake this beautiful colorful vegetable tart, which I had seen at Sabrinakocht and Gustomagazin.
So I got the rest of the vegetables from the garden and brought out my quiche form saloon. I was very curious if and what this form is good. I can say now, this form has passed my test successfully. A really great product that I acquired there. I'm very happy with it and happy to have bought it. I would like the shape in red and white look even better.
I modified the original recipe a bit because my husband is not the big lover of vegetables. In my recipe I have also incorporated the remaining prosciutto from the fridge - this was my decoy for my partner. Meanwhile, I baked the quiche 3 times in different ways. You can make them vegetarian, or even pimp with a little "ham".
I'll also write you the recipe for the shortcrust pastry here if you want to make it yourself.
Incidentally, the quiche tasted great with sweet shortcrust pastry, it had such a certain something. The different types of vegetables, spices, prosciutto and this slightly sweet taste of the dough can really enchant the taste buds.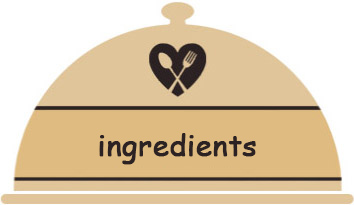 | | |
| --- | --- |
| | |
| 180 g | flour |
| 100 g | cold butter |
| 1 piece | Bio egg |
| 1 TL | salt (i use herbsalt) |
| | |
| | for the filling: |
| 2 piece | middle eggs |
| 150 g | Mozzarella |
| 150 g | Parmesan |
| 180 g | creamcheese |
| 1 piece | big zucchini |
| 3 pieces | carotts |
| 2 pieces | paprika red and yellow |
| view | leafs red cabbage (blanched) |
| 200 g | Prosciutto |
| | bakingspray and Tarte-form |
| | |
| | Black Pepper, salt, nutmeg grounded |
| | Caraway seed grounded, red Pepper, herbs to spice up |
| | |

I did it that way:


For the shortcrust pastry, quickly process the flour, butter, salt and egg into a smooth dough.
Wrap dough in plastic wrap and refrigerate for approx. 30 minutes.
Grease the tart tin with baking release spray and roll out the dough slightly larger than the shape used.
Just use some flour so that the shortcrust do not stick to the surface.
Put the rolled-up dough into the mold and press it, cutting away the remaining dough. Sprinkle with fork a few times and put in the fridge for about 30 minutes.

For the filling, cut the eggs, grated Parmesan cheese, mozzarella into small pieces and stir together with the spices.
Preheat the oven to 180 ° C.


Put the cheese filling in the tart tin and smooth.

Clean vegetables and cut into thin slices with a slicer (zucchini) and peeler (carrots).
Halve the chopped pepper lengthways, remove seeds and cut into thin strips.
Make sure the strips are about the same height.
Adapt cabbage strips.
I've overlapped my prosciutto leaves lengthwise.


Roll the vegetable slices alternately tight.
For example, e.g. start with a cabbage strip, roll up tightly and then with an e. Wrap zucchini strips, then with prosciutto - just roll up the strips alternately to create a nice color pattern.
If you can not roll it up, simply place it in the middle of the tart mold with the cheese cream and continue to layer your fingers outward. The
Spread the prepared colorful spiral with olive oil and season with salt, pepper and Italian herbs.
Approximately Bake for 55 minutes - depending on the oven.
Should it be too dark necessarily cover with aluminum foil and continue baking.

Finished is the quiche.
Fast, easy and wonderfully delicious.
Who has tasted it, write me - I would be happy.