The napkin dumplings made easy.
As a side dish for roasting or as a base for other dishes, the napkin dumplings are versatile in the good kitchen.
Napkin dumplings - a multi-talent in the good home cooking!
This post will be declared based on branding and links.
I have always been interested in recipes that use all the food in the household. For example, old, hard-baked bread.
Too often, then, the bread ends up in the garbage of many. There are so many old recipes in which exactly these foods give the dish that certain something.
So it is with the napkin dumpling.
Nowadays you can buy "dumpling bread" from fresh cakes in every grocery store. That does not have to be.
For today's side dish recipe, you can use any hard-bitten bread you still have at home.
I like to combine hard rolls with some lye pastry or brown bread - that gives the whole thing a fine spice.
The napkin dumpling is usually served as a side dish to a roast, but in my opinion he deserves to be recognized as a leading actor in a court.
Over time, I present you some old recipes that are based on today's napkin dumplings.
Now for the very simple but tasty recipe.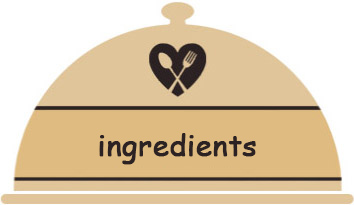 Enthält Amazon-Links / ads


napkin dumpling:

6 pieces


old rolls or dumpling bread



2 Bund

parsley
1/2 TL

herbal salt

1/2 TL

pepper
3 pieces

eggs


1/2 TL



nutmeg

grounded



600 ml

milk
1 piece

big onion

Decoration:
parsley, cress and sprig of rosemary
also you need:

a big

soup pot

big bowl
cutter
cling film

rubber bands

I did it that way:


napkin dumpling

Cut the hard bread into small cubes and place in a bowl.
You are welcome to mix the breads.
Of course, you can also use a finished dumpling bread.
Pluck the parsley from the stalks and cut roughly with a sharp knife.
Peel the last onion, finely chop and add to the Ködelbrot.
Beat the eggs and place in a saucepan filled with milk.
Now whisk the eggs with a whisk until it becomes a homogeneous egg-milk mixture.
Pick the parsley from the stalks, chop it and add it to the milk.
Add salt, pepper and nutmeg.
Now gently heat this mixture on the stove, stirring constantly.
As soon as it is warm pour over the Ködelbrot.
Use both hands to ensure that the liquid is mixed.
After a while, the bread is softened and all the ingredients have been evenly distributed through mixing.
Form the mass into 2 thick sausages and wrap well with cling film.
Seal the ends with rubber bands and simmer for about 10 minutes in undulating water.
Put the napkin dumplings out of the foil and serve hot as a side dish to your dish.
If you liked my recipe and pictures, I would appreciate your feedback and comments.
Have fun while copying.