Homemade chicken soup with selfmade noodles
It probably belongs to one of the tastiest medications from the cooking pot:
A plate of freshly prepared chicken soup is good for everyone.
Magic potion- homemade chicken soup!
This post will be declared based on branding and links.
With a hot soup you combine warmth, love and blessing for body and soul. A chicken soup is said and it has now been scientifically proven that it strengthens us with a cold. That is exactly why I am preparing Mr. C. a fortifying homemade chicken soup today. He has been lying in bed very ill for some time now and what better way to get him on his feet than a lovingly prepared chicken soup. The pot has tradition, strength and a lot of health. Vegetables, meat, spices and herbs turn water into gold for our health. This was already known by my mom and my grandma. Because this recipe comes from you.
I developed it just a little further and with my new knowledge, I refined this recipe a bit. Everything is made as natural as possible and fresh. This has always been very important to my mom and grandma. To this day both do not use soup cubes or similar flavor enhancers. This is a recipe passed down from generation to generation. Every time I cook this soup and with every spoon I enjoy, childhood memories are aroused in me.
Whenever I was ill as a child, my mum lovingly cooked me such a fortifying and healing chicken soup, cooked from our own happy chickens. Also, this chicken soup was our favorite Sunday soup. For me it was always so exciting to be able to help my mom with the cooking, to pick up the soup vegetables from our own garden, to watch the soup scoop and most of all it was me, even if dad in the kitchen gehalf.
Later, when I was a little taller, I also learned to handle our hens, to open their stable in the mornings before I started school, and close them in the evening, so that martens or foxes had no chance to harm them. I learned to feed them, to honor them, to live with them and of course to kill and pluck them. No pleasant work, but this was part of life on the land. Not only delicious to eat - I had to pay the price and get to know the work behind it. That's how I was raised. And that's how my siblings and I are giving to the next generation.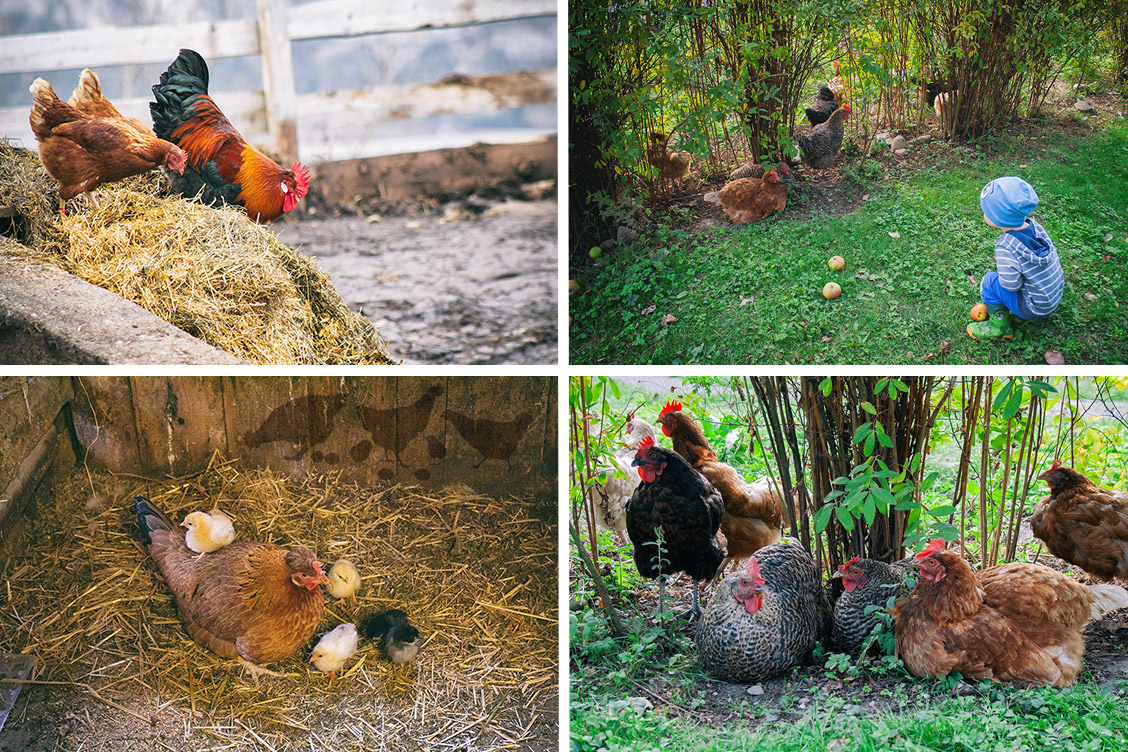 One thing I can say with certainty: Who keeps chickens in the garden, not only daily fresh eggs. They were also suppliers of feathers and meat in my family. In addition, they conjured from each house a nice little farm full of lovely residents. They pick what they find and restore nutrients to the soil through their manure. A natural, easy cycle that will do you good.
At a very young age, I also learned what a good basis for a good kitchen is: flour, salt, sugar, water and then eggs, milk and potatoes. These were the staples of my mom and my two grandmas. With these 7 foods they conjured true delicacies on the table.
Alone fascinating, considering what everything can be made of eggs. To cook them when needed, hard or soft, beat them in the pan or process them into a cake. But it is the same with a chicken. You can roast, stew, fill or prepare in a soup. Even the different types of preparation of chickens, which I know from my childhood are as diverse as humanity itself. I've tried many chicken soups and met, but today is all about my family recipe. How this family recipe was passed from generation to generation you can see on the photos.

If you are interested in my homemade recipes for colds, here is the link to my country pharmacy. The link for homemade pasta can be found here or in the ingredients.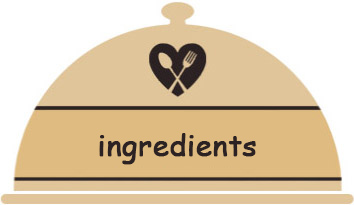 Enthält Amazon-Links / ads


1 piece

whole BIO chicken

1 piece

herbal bouquet garni
(Herbs of thyme, parsley, lovage, rosemary and bay leaves)

1 EL


black

peppercorns

8 pieces

juniper berries

4 pieces
cloves

3 pieces
allspice grains

2 pieces
bay leaves

1 piece
star anise

1 TL

mustard seeds

1 pinch

nutmeg
"Activator"

salt-sugar-mixture

in relation

5:1
(e.g. 50g salt + 10g sugar = 60g activator
I use my herbal salt
2 pieces

BIO onion
2 pieces

BIO garlic cloves


1 piece

leek

1 piece

celery root


4 pieces

big

carrots

2-3 stalks



parsley

1 piece

BIO ginger
a few

Roses of broccoli, caramel and Romanesco florets


(is packaged as frozen food)



water fresh and cold

salt

and

pepper

to spice up



homemade soup noodles

finely chopped chieve for decoration

also you need:

a big

soup pot I use

Pyrex


a sharp

knive

vegetable peeler
ladle
skimmer
strainer

and

pass cloth

or a big

coffee filter
Lucina´s tips:
I always cook a little more chicken stock and freeze them in tupperware boxes or other plastic boxes. Such a homemade broth is a good base for many other soups, e.g. Chicken soup with liver dumplings, for curry chicken soups and many others as well as for different sauces.
The soup chicken that lands here in the pot may well be a slightly larger and also an older copy. The meat is guaranteed to soften when cooked.
Important: buy an organic chicken or a chicken from the farmer you trust..

"Activator" I have this trick from star chef Stefan Marquard, here you can read how it works.

Whenever I harvest leeks in the fall, I make myself freezer bags, in which I freeze it, washed and roughly cut, for my soup. Then I need to get the bag in the winter only when needed from the chest. I do the same thing with celery.
Out of the overcooked vegetables my mum makes an excellent sauce with the name Sviečková na smotane - I'll get this recipe as soon as possible.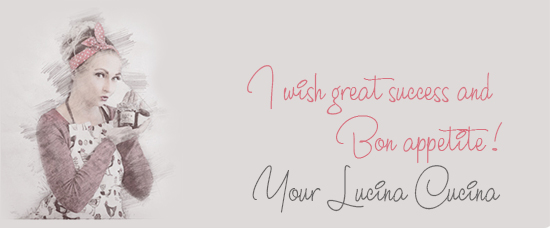 I did it that way:


Wash the chicken soup neatly with cold water, dab it dry and roughly divide into four parts.
Cut the clubs and the wings, cut the breasts left and right,
season everything together with the activator, place in a high pot and just cover with water.

Now we are dedicated to the soup vegetables.
Remove the leeks from the lower root structure.
Cut off the withered leaves and cut the leeks lengthwise to wash.
After washing, cut roughly into a large bowl.
Free the celery from its outer shell, also dice it roughly and add it to the leek in the bowl.
, Peel the shell off the parsley root and carrots and also cut roughly.
(For carrots from my own garden, I leave the shell on - I wash them only thoroughly)
When the ginger leave the bowl on it and cut off about 6 slices.
When onion just cut away the stalk.
Peel and quarter an onion.
Cut the second onion in the middle and add the bowl to the other vegetables in the large bowl.
The same thing happens with the two cloves of garlic.
Simply cut with the bowl in the middle and add together with broccoli, Karfiol and Romanesco florets in the large bowl to the other vegetables.
Season with activator, mix well and let soak for about 3-5 minutes.

Now give the vegetables to the chicken.
Now all the spices and the herb bouquet garni are added.
The juniper berries you have to press lightly, so they can deliver the aroma to the broth.
Fill with water so that everything is just covered.
Cover and let it boil on.
When the soup is boiling, turn down the temperature a little so that it is just simmering.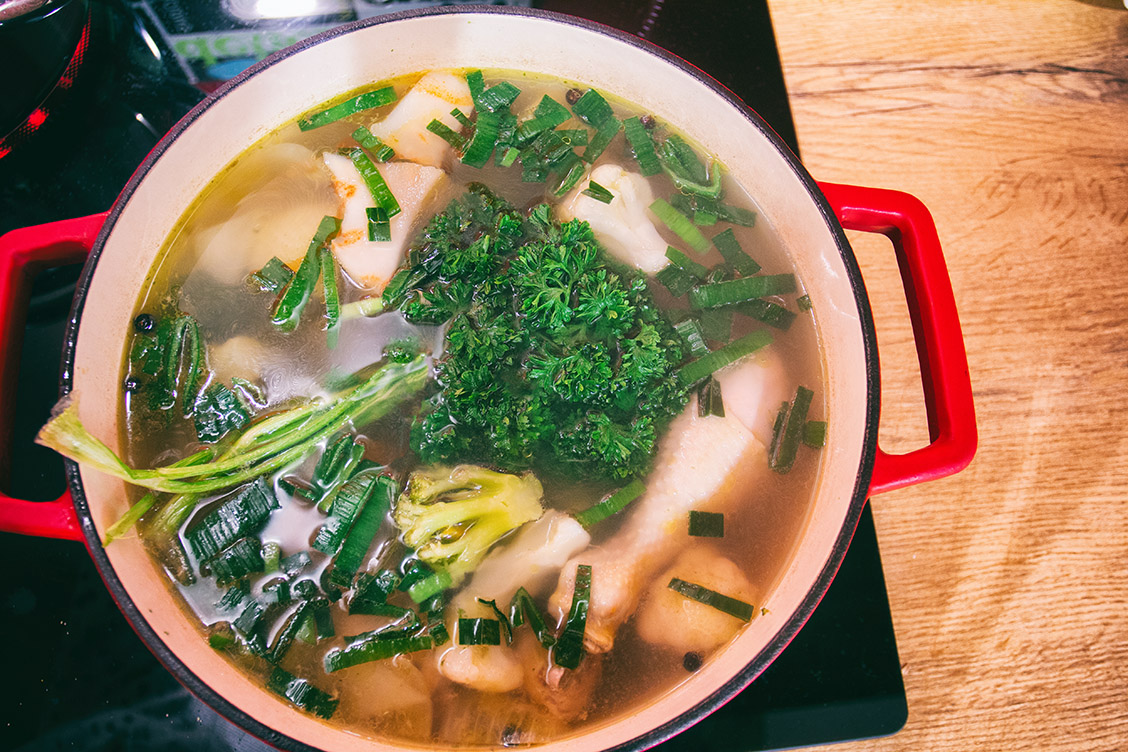 After a while gray foam forms on the surface of the soup.
You do not have to scoop that foam, but I always do that - that's how my mom and grandma did it.
The reason is simple: the foam is why the broth is not clear, even a little discolored and dull.
Therefore, I always scoop the foam away carefully.
The end of the cooking time of this soup is 2-3 hours.
This means you let the soup for another 1-2 hours after skimming the foam.
In no case the soup may cook!

The vegetables that you want to eat, you can bring out about half an hour
(You just try with the fork, if the vegetables are so strong)
or you leave it inside.
Of course, this vegetable is overcooked.
My mom uses this chunky soup soup for a delicious sauce - me too.
For this reason, I cook my vegetables, which I would like to have in the chicken soup, separately in a pot.
In between, when the chicken is tender, remove the chicken parts and remove the skin.
Remove the meat from the bones and cut into small pieces.
The bones come back into the soup.

At the end of the cooking time everything comes out of the pot, each in a separate bowl.
With the chopped vegetables you can mimic my sauce or process it in a delicious salad.
If there is only more broth in the pot, strain through a sieve with a pass cloth.
I also often use a large coffee filter, because then the soup is more than clear.
Meanwhile, you can boil up the noodles
(in a separate pot)
Here you will find the recipe for the homemade pasta.
Sauté the vegetables for the soup in the extra pot.
Boil the supple soup again and season with salt, pepper and nutmeg.
Spread the extra cooked vegetables and noodles on plates and pour in the clear, spiced soup.
Serve sprinkled with chives.
Good Appetite.

PS:
A few words about the cooking time:
A chicken needs about two hours in the slightly simmering cooking water until soft. A good chicken broth, however, takes between 6 and 8 hours of cooking, even 10 hours will not hurt. During the long cooking process, the collagen dissolves from the connective tissue and from the many tendon-rich body parts and goes into the soup. Such times provide a lot of discussion in the network and scare off many hobby cooks. Actually wrong. Because the pure preparation time is only 15-20 minutes; The cooking time itself is not associated with any work.
Why chicken soup with cold?
What is the point of saying that chicken soup helps with colds? Much, because researchers at the University of Nebraska have since discovered that chicken soup blocks certain white blood cells that can trigger inflammation and swelling of the mucous membranes. In addition, there are certain proteins in the chicken meat that are supposed to inhibit inflammation. And, considering what ingredients are contained in a chicken soup, the ingredients do the rest. Vitamins, iron, zinc - they can support the immune system and so act in the fight against colds. Another factor is the heat. Because soups heat the body properly, so promote blood circulation and the mucus can dissolve better. Already when inhaling the steaming soup, the mucus can dissolve similar to a steam bath. The inner cold has no chance. Of course, when one is ill, the body still needs energy in the form of food to assert itself against the pathogens. So what's better than a home-cooked chicken soup? Incidentally, finished chicken soups have a less powerful effect. Fresh and without flavor enhancer the soup tastes best!
Does chicken soup help with diarrhea?
In a diarrheal disease, the body loses fluid and thus electrolytes. That is why it is important to provide these to the body again. A chicken soup is easily digestible and leads, through the contained salt, the body again to electrolytes.
Source: https://www.essen-und-trinken.de/huehnersuppe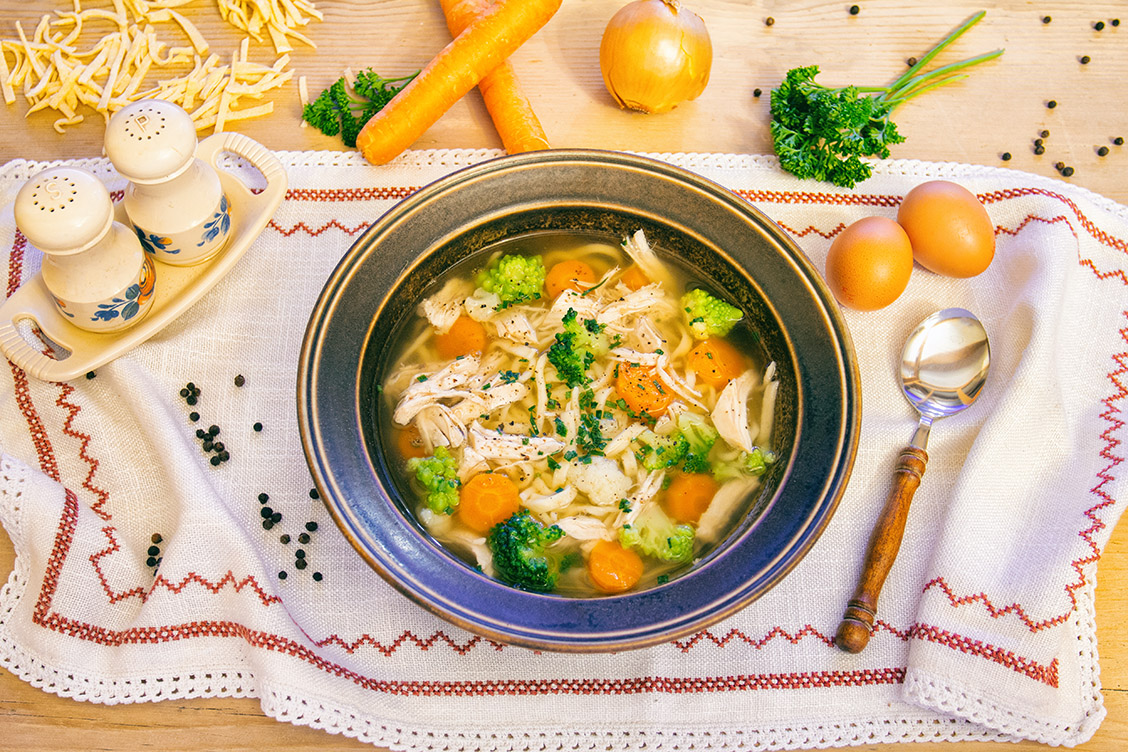 If you liked my recipe and pictures, I would appreciate your feedback and comments.
Have fun while copying.