Chocolate-rose-mini-gugelhupf
The perfect sweet seducer, the hit at every party.
Magic Attraction - Small is irresistible!
Dieser Beitrag wird auf Grund von Markennennung und Links als Anzeige deklariert.
Many of you already know that a few days ago I started a girls evening, which I called Floriental. But what would a cozy "we-time" be without the right snacks? A little bit of strengthening has to be easy. Of course, the question was which snack would I prepare. My sister Monika has given me these lovely little mini Gugelhupf molds and as the Gugelhupf is back fully in the coming, I have opted for a chocolaty mini Gugelhupf. I think these mini gugelhupfs are the perfect snack for any party buffet.
Ok, admittedly, I also wanted a culinary eye-catcher for the girls evening and that's exactly what my chocolate mini gugelhupfs with a touch of roses should be - after all, they should also match my motto Floriental. A cake in miniature is just a bit different than just cutting off a piece of a big one. Or not? A small, fine delicacy, enveloped by a soft melting chocolate and the extravagance gives it the light touch of the rose. In this mini format you want to eat it every day. A lovingly staged seducer against the gray everyday life, his taste and appearance inspire new ideas and thoughts. I also served these little beauties during our visit to Charly, our mountain baker. And if he was already enthusiastic as a professional baker, then that means something, too? Incidentally, I have used exactly the same dough for the heart tarts with rose truffles (pictures below). The chocolate glaze I have omitted.
And here's the recipe for these little seducers:
Lucina´s tips:
Mini gugelhupfs you can freeze well - so you always have something delicious for coffee for an unexpected visit.
Who has fresh unsprayed rose petals, can also chop these small and work in the dough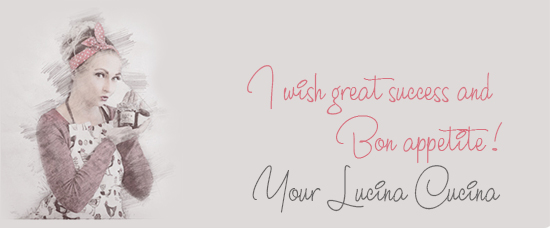 I did it that way:


Apron around.
Preheat oven to 170 ° C circulating air.
Coarsely chop the chocolate (if not otherwise given) (I use an electric multizinker) and melt with butter and milk over the water bath.
Milk can be heated on a direct flame before that

Whisk the eggs with the sugar on a high level until frothy.
Then squeeze in the cocoa powder and flour.
Briefly stir with the whisk again.
Then add the melted mass and 2 tbsp oil and rose water and mix well.

Grease the Gugelhupf forms well with the baking spray, so that nothing sticks.

Please do not be surprised, the dough is liquid during filling, but it solidifies after baking. Bake the mini-Gugelhupfs for about 15 - 20 minutes.
Depending on the oven and size of the mold, the baking time may evetl. to be adjusted slightly.
The stick sample is helpful to test when they are done.

Coat the completely cooled Guglhupfs with chocolate.
To do this simply take the cleaned molds, put a little melted chocolate in the mold - make sure that the side walls of the mold are covered with chocolate.
Now the Mini-Gugelhupf again fit into the filled mold and press down vigorously but very carefully.
Really very careful please!

Now let it cool in the fridge.
Carefully remove the miniature ball cakes from the molds.
Sprinkle a little spray cream at the top and sprinkle fresh little berries or candied cherries on top.
I wish you a wonderful enjoyment
and a lot of fun and joy while preparing.