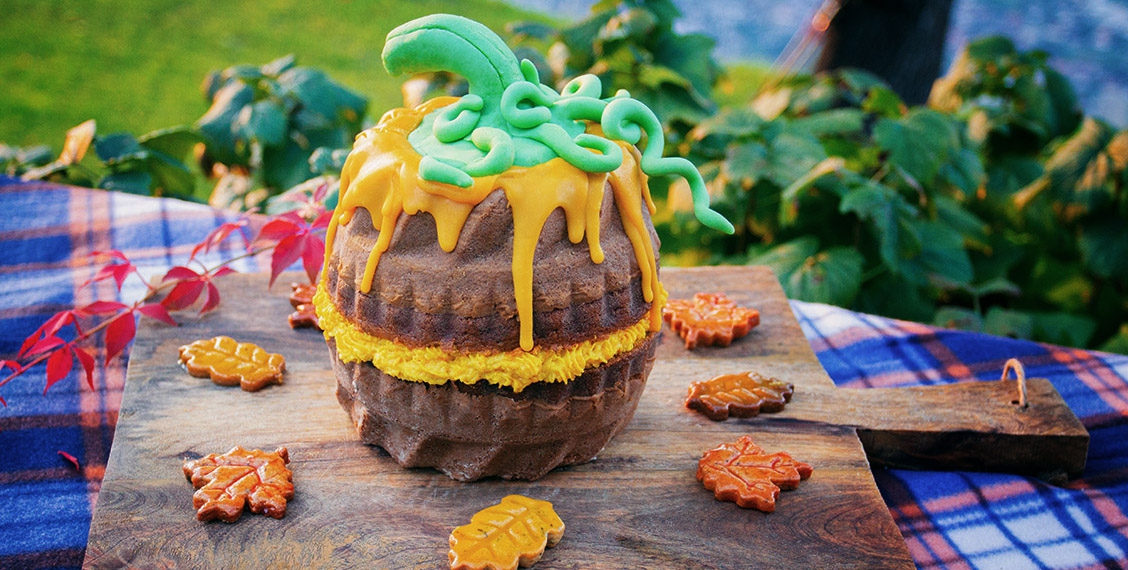 Juicy pumpkin ring cake with orange
Autumn time is pumpkin time.
The perfect Gugelhupf for the cooler season.
Orange, big and round - that's how we almost all know it.
This post will be declared based on branding and links.
Whether with a thick or thin shell, yellow or white, mini or huge - its flesh now warms the stomach and soul.
In autumn, the pumpkin is in high season. And with over 700 pumpkin varieties grown in Austria, creativity in the kitchen knows no bounds! I was enchanted by the pumpkin, not only for food but also as a decoration. So I decided to spice things up a bit with pumpkin at my autumn garden party. The decoration and of course the food should be the right one. And as children were present at this party, I decided to go for Autumnal Pumpkin Leaf Cookies and Gourd Gugelhupf. A Gugelhupf, which was not only baked from pumpkin, but also looks like a pumpkin. I can already tell you that much - he tasted delicious. So juicy and creamy with a fruity note of orange. I also wanted to conjure this pumpkin gugelhupf as a souvenir during my visit to David and Kathrin - unfortunately I forgot on that day to pollinate my baking molds with flour. So it happened to me that the cake stuck in the mold. I was unhappy. At first, Christian meant it as a joke: this pumpkin gugelhupf is only good as cup cake. That was the bad idea - I still had 4 glasses at home. I crumbled the cake, put it in the glass molds and topped it with the cream. As a topping, I skilfully placed a teaspoonful of rose jelly in the middle. I recently got the Rosengelle as a present from monika_ldg. A few times with Dr. Oetker Bourbon vanilla mill sprinkled over it, a pinch of cinnamon and finished my new creation.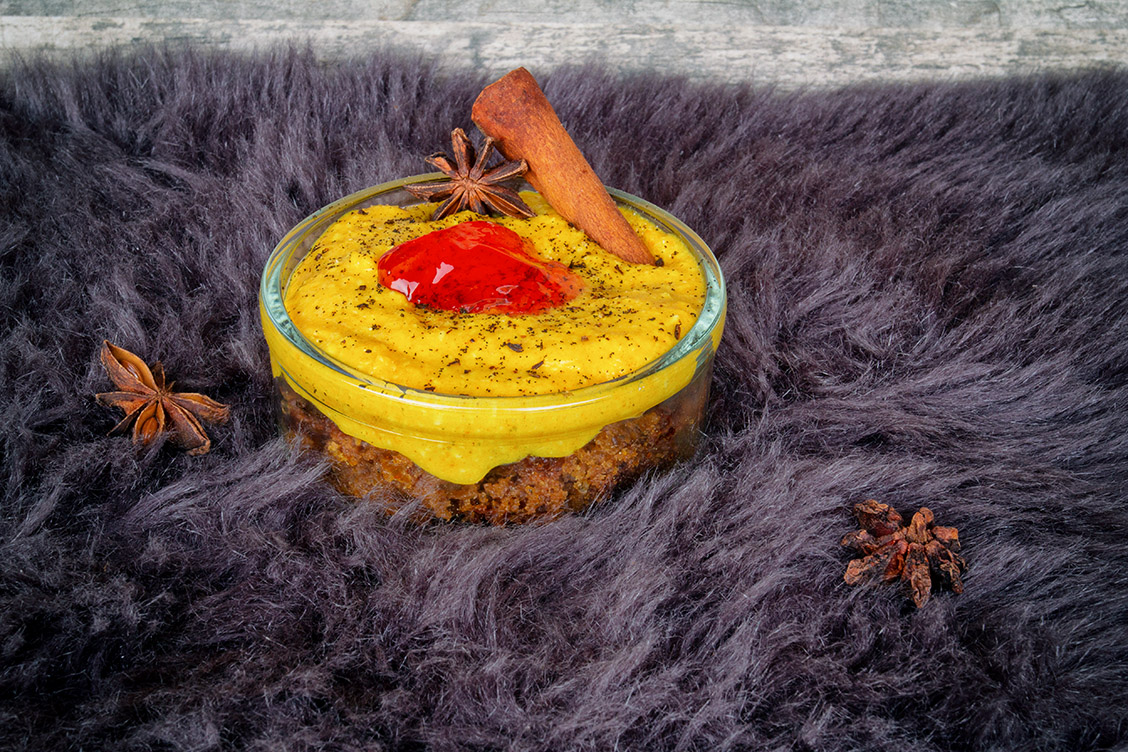 Lucina´s tips:
The dough is very liquid. Flour the shape well so that it is easier to get out of shape. If something goes wrong and the dough gets stuck in the mold, just use the "accidental" Gugelhupf as a base for the pumpkin pie. The fairer then comes up as a lid. Or you do it like me and process it like cake in a glass. Misfortune can happen anytime. The recipe for the leaves biscuits you will find here.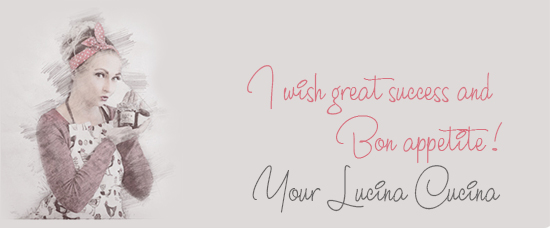 I did it that way: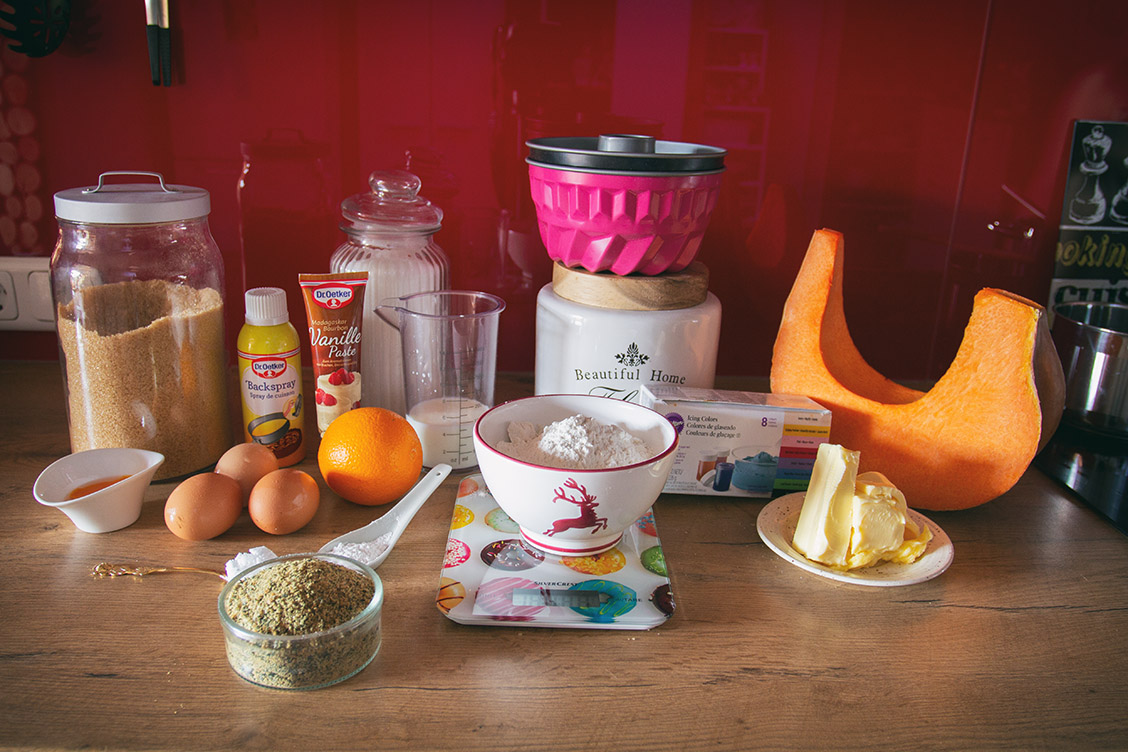 *Best a few hours or better a day before from green fondant for the ornament cut off three small slices of fondant and roll out for the tendrils to long rolls. Roll up and let it dry. Knead the remaining fondant, roll and form the pumpkin stew.
I helped myself with toothpicks, after drying I removed them.*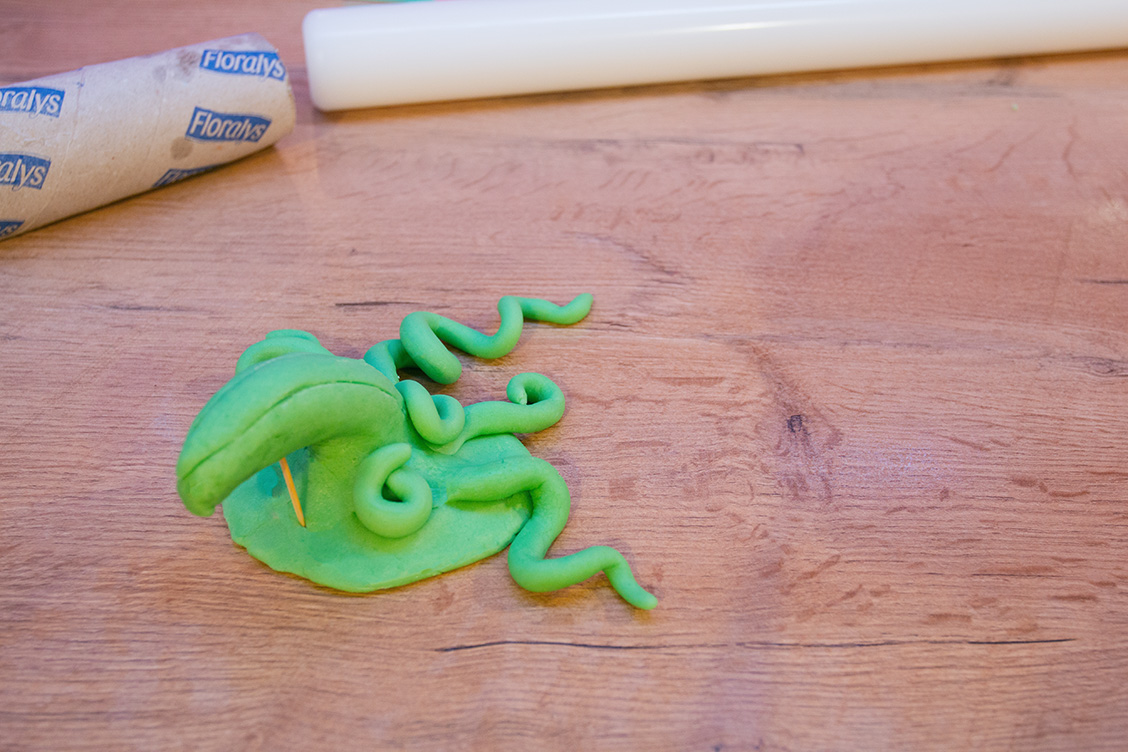 *Pumpkin puree*
Halve and de-corer 1 hokkaido pumpkin or nutmeg pumpkin (you have to peel it).
To cut in pieces. Place the pieces on a baking sheet covered with baking paper and bake gently at 180 ° C for approx. 45 minutes.
Allow to cool and puree the soft flesh with a hand blender.
I got from a 1300g heavy pumpkin about 500 g of ready pumpkin puree.
You can simply freeze leftovers for the next cake or make a tasty pumpkin latte out of it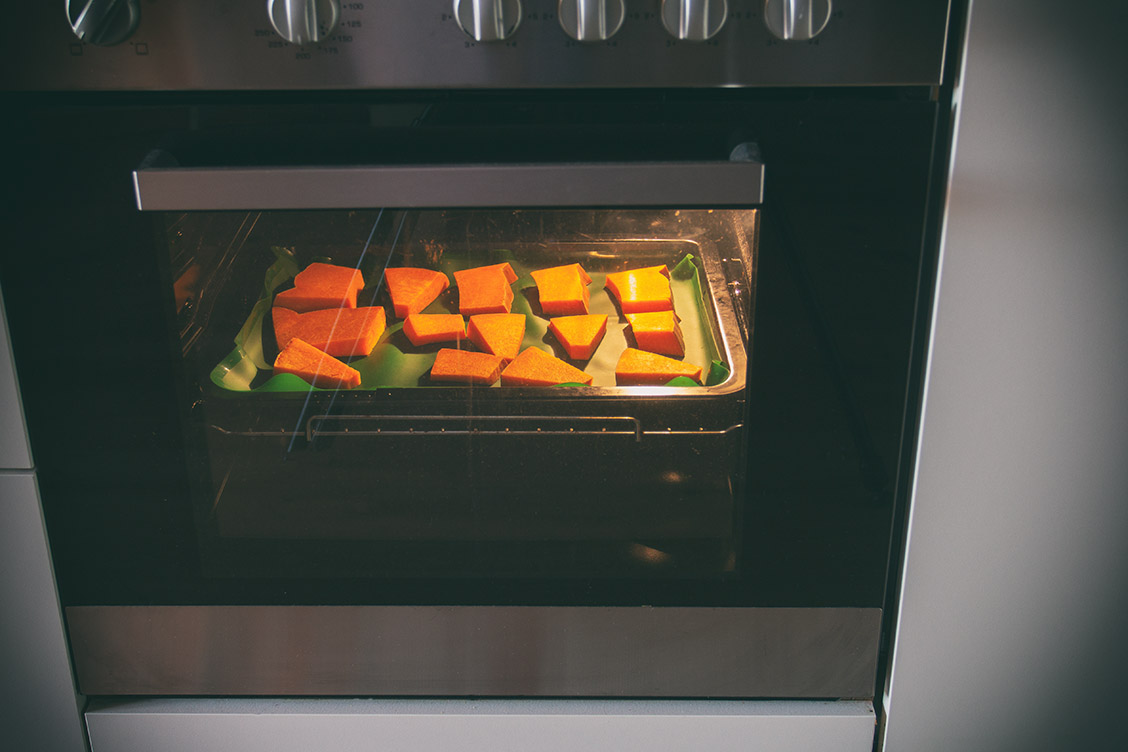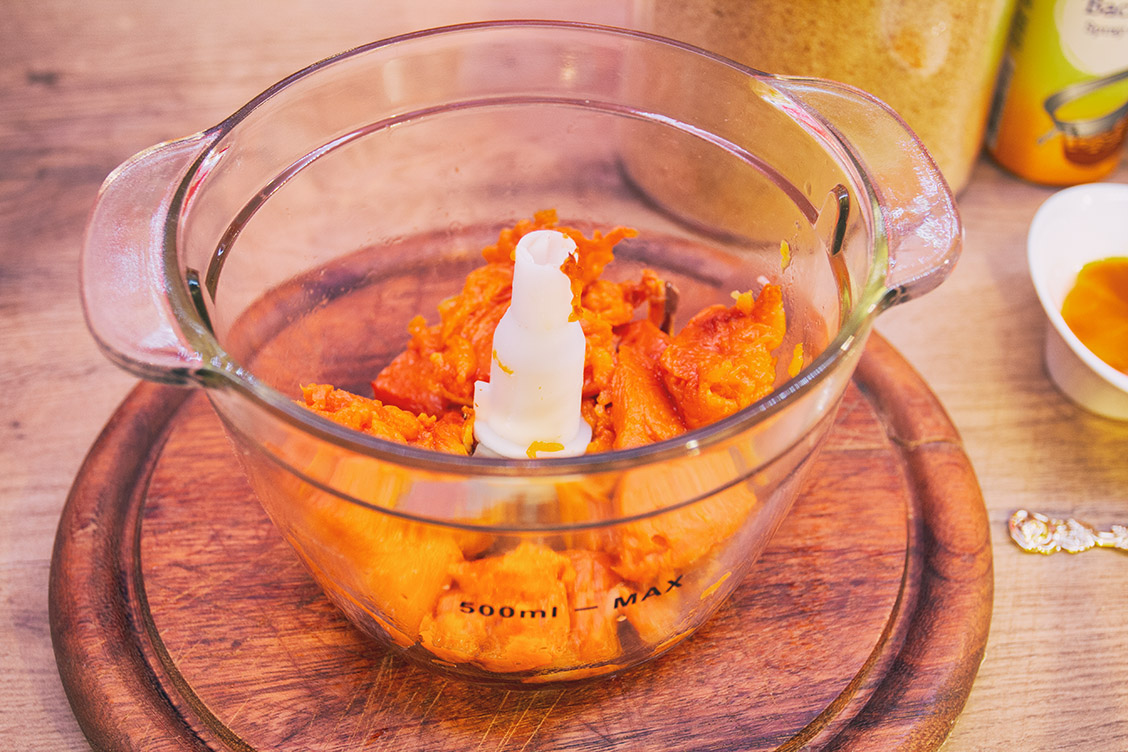 Preheat the oven to 180 degrees.
Mix the buttermilk with the pumpkin puree, the vanilla and the peel and juice of the orange.

In another bowl, beat the soft butter with the sugar for a very long time (about 5 minutes) until it is fluffy and frothy.
Then gradually beat the eggs. Each stir again for at least half a minute.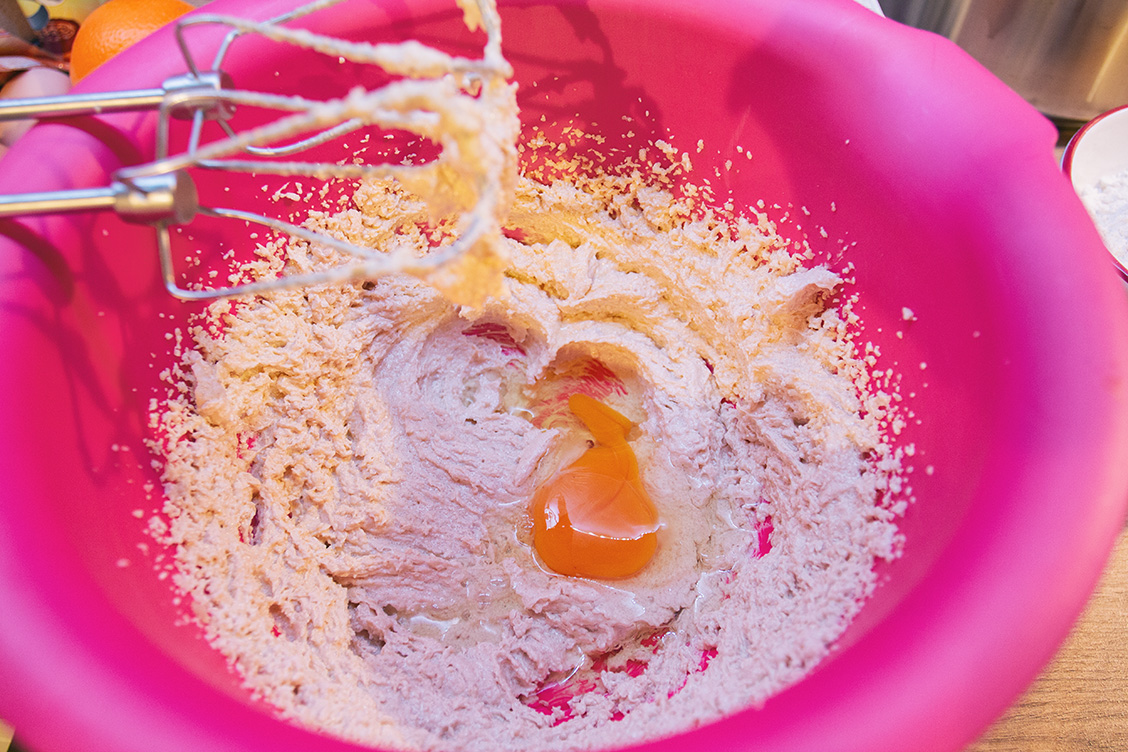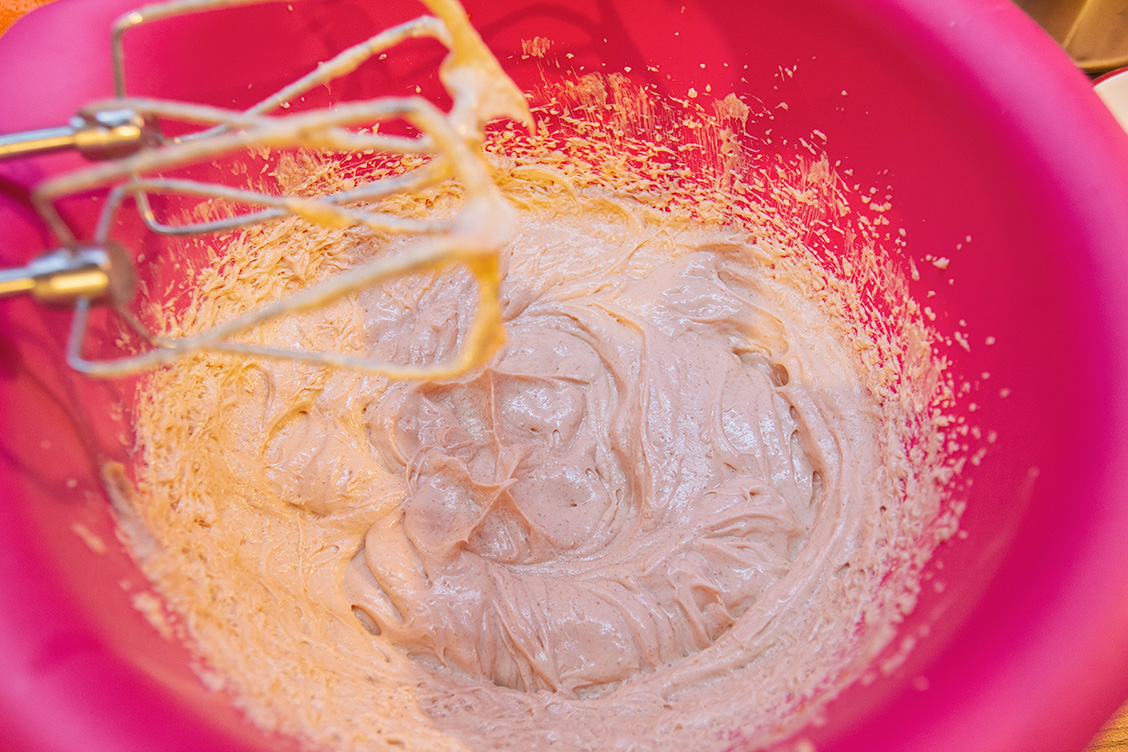 Mix the flour, pumpkin seeds, baking soda and soda well, stir and mix alternately with the pumpkin mixture under the dough.

The two forms with Dr. med. Grease Oetker baking spray well and dust with flour.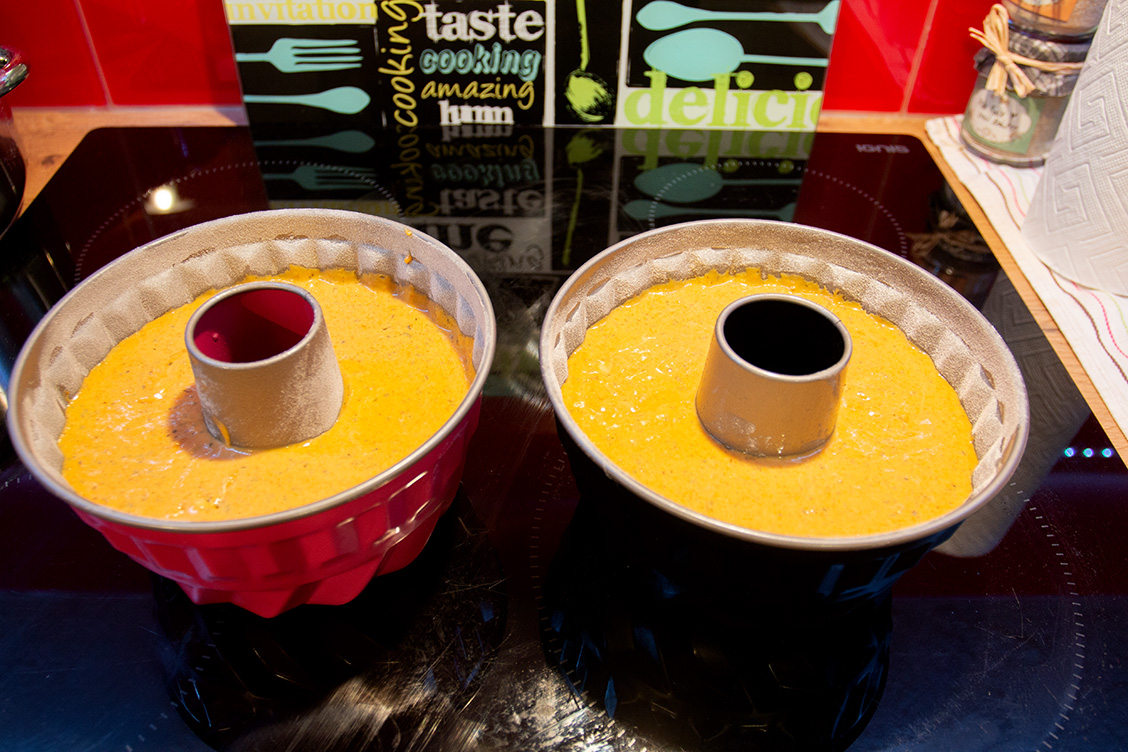 Bake at 180 degrees for about 40-45 minutes. Cover with aluminum foil at the end of the baking time.
Please make sure you have a chopsticks sample, because every oven and every shape is different!
Allow the cake to cool in the mold for about 6 minutes before you crash it.

For the cream:
Mix butter with sugar, cinnamon and nutmeg and turmeric (alternatively food coloring or frooggies mango) until frothy.
Add the pumpkin puree and cream cheese - and put the finished cream in the fridge for about 20 minutes.

Turn a bundt cake upside down so that the wide area is facing upwards.
Cut both from the lid so that they are nicely even.
Brush with butter cream or spray on the cream with a syringe bag and put on the second bundt cake.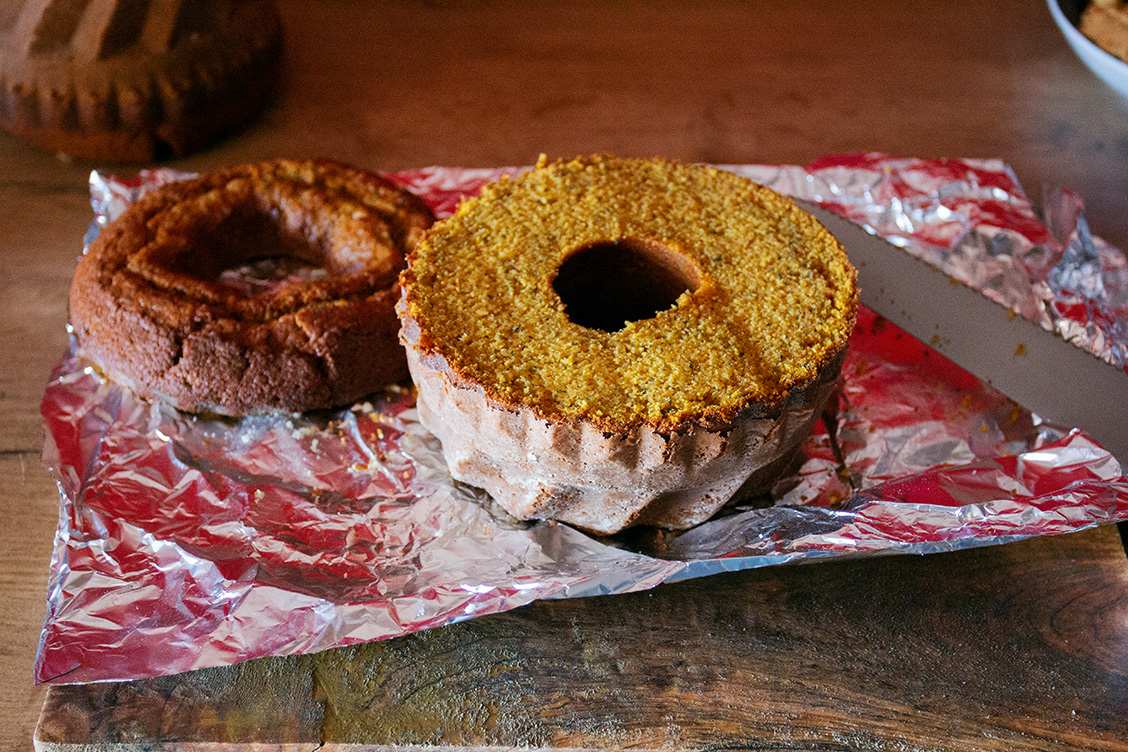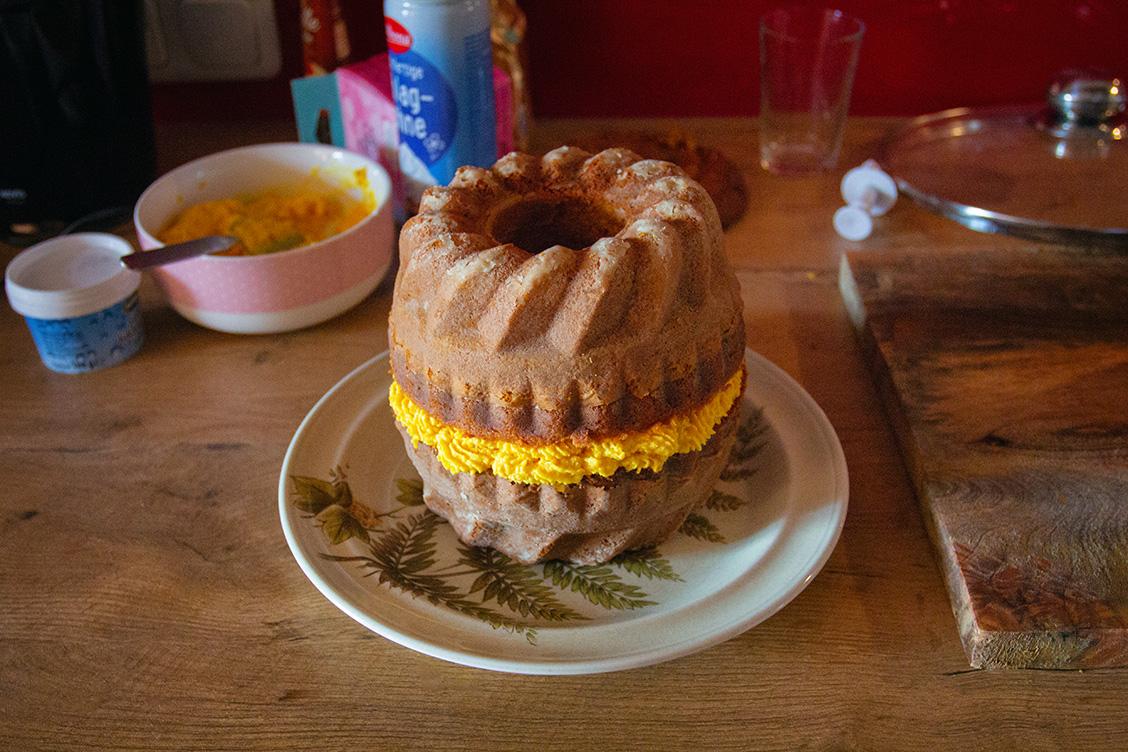 Melt enough candy buttons with orange juice over a water bath.
Simply distribute the thick syrup over the pumpkin and quickly and carefully place the pumpkin drink.
Ready is our pumpkin Gugelhupf
If you liked my recipe and pictures, I would appreciate your feedback and comments.
Have fun with baking.